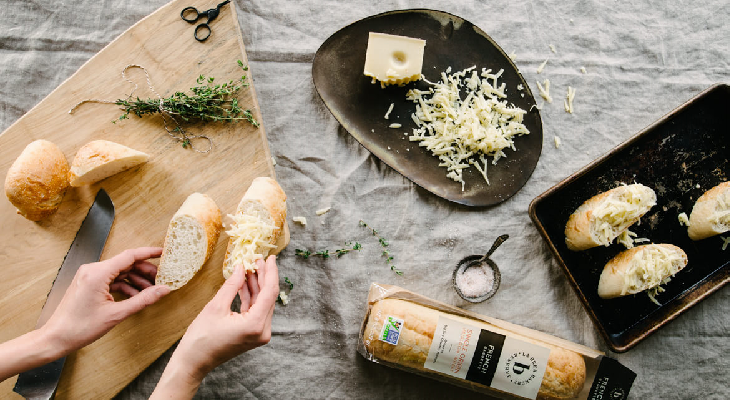 This French onion soup recipe is equally simple as it is full of flavor highlighted by caramelized onions and melted emmentaler cheese.  Enjoy with our Reserve French demi-baguette.
Recipe and images by: Eat Your Beets
Ingredients
3 Tablespoons Ghee (or similar cooking fat like butter)
3 lbs Yellow Onions, peeled & thinly sliced (approx weight - about 4-5 onions)
½ cup Red Wine (something semi dry, don't overthink it)
2-3 cloves Garlic, sliced
2 springs fresh Thyme
1 Bay Leaf
6 cups Beef Broth
Salt & Pepper to taste
2 La Brea Bakery Reserve French Demi-Baguette, sliced into 1.5-2 inch slices
8 oz Emmentaler Cheese, grated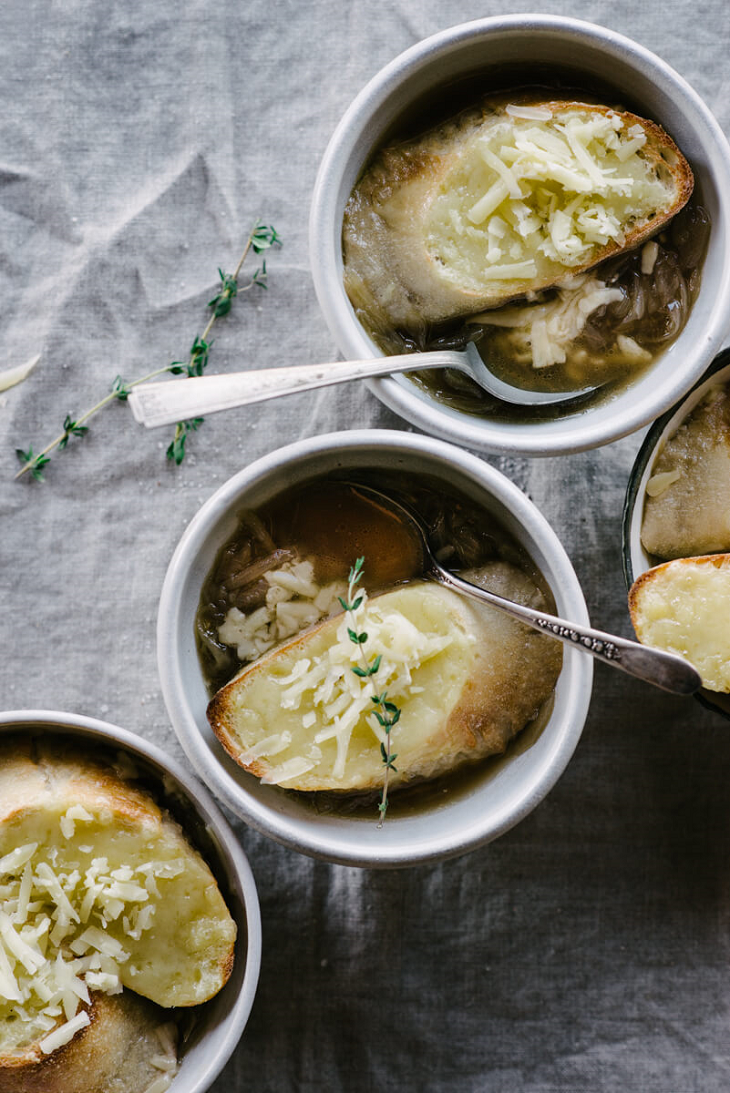 Preparation
In a large stockpot, over low heat, melt ghee & add onions.
Sweat onions, stirring occasionally so they don't burn, for at least 30-45 minutes or until a deep, golden color. The longer you cook the onions over a low to medium heat the sweeter they will be. Just keep stirring.
Once onions are soft & golden, add in the garlic & stir until fragrant.
Then add ½ cup of red wine, springs of thyme & bay leaf.
Simmer on low until most of red wine is absorbed.
Then add broth & simmer on medium heat until warm. 
While the broth is simmering, line sliced bread on a baking sheet & top with shredded cheese. You can also reserve some of the cheese for serving.
Place the baking sheet in the oven & broil for 2-3 minutes, watching closely until cheese is melted.
Remove the baking sheet from the oven & set aside.
Season the soup with salt & pepper to taste.
Remove the bay leaf & sprigs for thyme.
Ladle soup into 4-6 bowls & top with cheese bread + extra shredded cheese.
Serve immediately after adding bread.