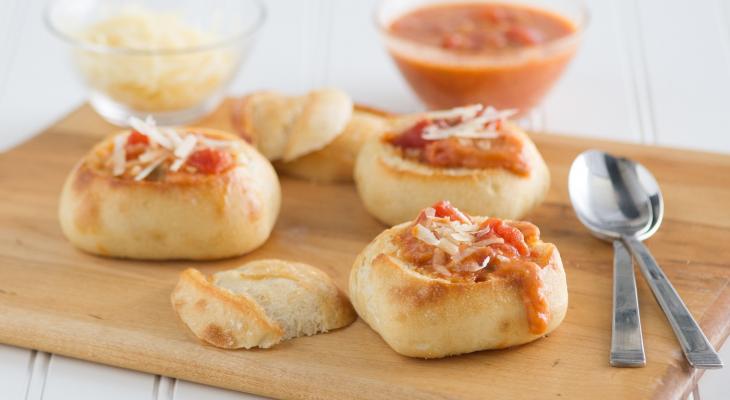 A savory appetizer that is sure to please your taste buds.
Ingredients
1 Tbsp. Olive Oil
¼ cup Butter
6 Garlic Cloves
14 ½ oz. Diced Tomatoes
1 Tbsp. Sugar
1 ½ cup Chicken Stock
1 tsp. Salt
¼ tsp. Ground Black Pepper
1 ½ cup Finely Shredded Mozzarella
¼ cup Finely Shredded Parmesan
Preparation
Preheat oven to 385 degrees F. Cut the top off of each roll, about 1/3-inch-thick and reserve for later.
Scoop out most of the inside of the remaining roll, leaving approximately 1/3-inch thickness all the way around to form a bowl. Brush inside and top with olive oil.
Place the rolls on a baking sheet and bake for 5 minutes. Remove from oven and allow to cool.
In a medium sauce pan over medium heat, place the butter and garlic and stir to combine. Allow the butter to melt and begin to foam and stir occasionally for 3 minutes.
Add the tomatoes, salt, pepper, and sugar and continue cooking for 5 minutes, stirring occasionally.
Add the chicken stock and cook an additional 5 minutes then lower heat to simmer (lowest setting).
Increase the heat under the tomato mixture to medium and add the mozzarella to the pan and stir to combine and melt the cheese.
Spoon this mixture into the bread bowls and top with the Parmesan before returning to the oven for 5 minutes. Remove from oven and serve with the tops that were removed, on the side for dipping.