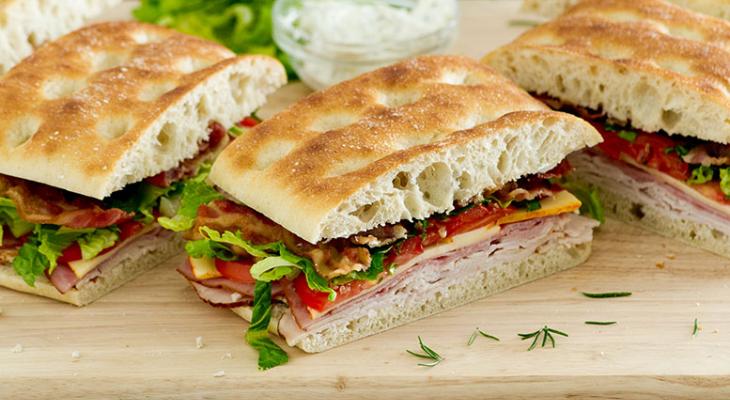 Use our ciabatta loaf to make a platter of game day winning sandwiches.
Ingredients
1 lb. Smoked Bacon, Sliced
8 oz. Cream Cheese, Whipped
1 Large Stem Rosemary
10 slices Roasted Turkey, sliced
10 slices Ham, sliced
8 slices Muenster Cheese, sliced
1 Romaine Heart
3 Large Tomatoes
Fine sea salt
Freshly ground black pepper
Preparation
Preheat oven to 350 degrees. Arrange bacon slices on a nonstick baking sheet so the slices do not overlap and bake in oven until medium crispy. Slice the Ciabatta loaf to form a top and bottom half.
Place on oven proof sheet pan and toast in oven for five minutes. Pick the leaves of rosemary off the stem and chop them very finely. Mix the chopped rosemary with the cream cheese. Remove top half and spread cream cheese evenly on bottom half. Lay out the turkey in one even layer to cover the Ciabatta and then do the same with the ham. Top with Munster cheese.
Slice the tomatoes into 1/8" slices and place evenly over the cheese. Remove the core and cut the lettuce into 1/4" strips and place over the tomatoes. Season the tomatoes and lettuce lightly with salt and pepper. Distribute the bacon slices evenly over the tomatoes and lettuce. Spread the honey mustard on the inside of the top half of the Ciabatta and place the top on the rest of the sandwich.
Cut into five sections and then each of those into to pieces to form ten small sandwiches.