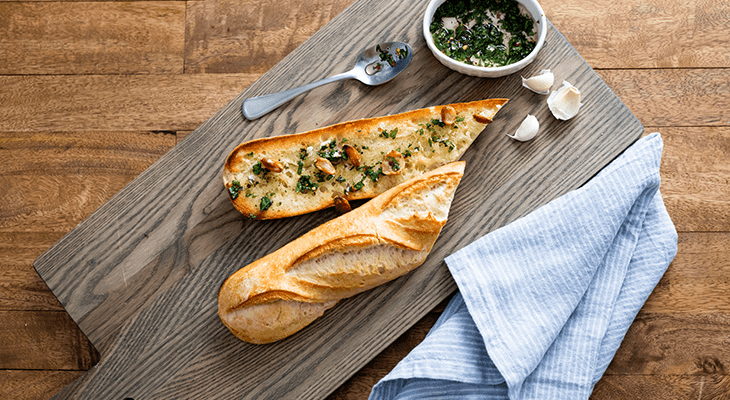 Ingredients
1 French Baguette
8 cloves of garlic
2 Tbsp Butter (softened)
2 Tbsp Chimichurri (favorite recipe or store bought)
1 Tsp salt
1 Tbsp Olive Oil
Preparation
Set oven to Bake and preheat to 350 degrees.
Cut Baguette in half lengthwise.  Brush both sides of the bread with butter and place in the oven and bake until just starting to brown. Remove from oven.
Cut the remaining uncooked clove of garlic in half and rub the cut end all over the crumb side of the bread including the edges.  Discard clove.  
Put 7 cloves of garlic in a pan with 1 Tbsp of olive oil and cook on low heat until golden brown and soft, about 5-6 minutes.  Remove and smash with a fork. 
To serve, place warm garlic bread on a board, top with golden garlic gloves and spoon Chimichurri sauce over each piece.  Season with salt to taste.