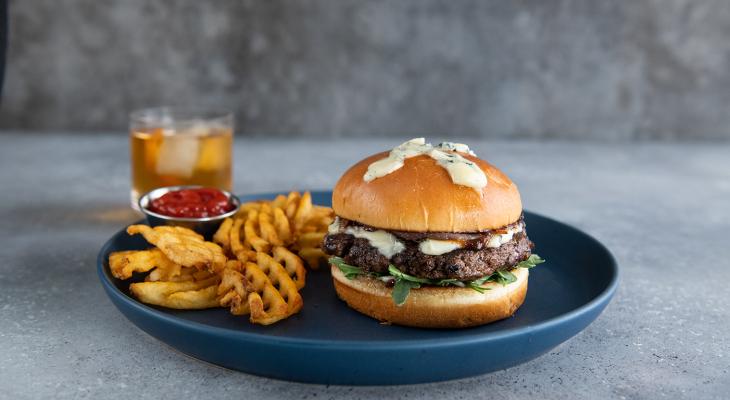 Ingredients
1 La Brea Bakery Brioche Bun
8 oz ground sirloin patty
¼ cup grilled red onions
½ cup baby arugula
½ cup Gorgonzola cheese
2 Tbsp balsamic-fig jam
Salt and pepper 
Preparation
Brush the inside of the brioche buns with butter and toast on a flattop or on a grill until the edges are golden. Remove. Score the top bun crosswise, about ½ inch deep, and stuff with half the cheese. Set aside. 
Season burger patty with salt and pepper, and cook the burger per your desired method to medium rare adding the remaining Gorgonzola cheese 30 seconds prior to fully melt.  Remove and set aside.  Next, put the Gorgonzola stuffed bun in the salamander to just melt cheese and remove.
To build, spoon half the fig jam on bottom bun. Add arugula, and then burger. Top with grilled onions and remaining fig jam.  Place stuffed bun on top and serve with waffle fries.