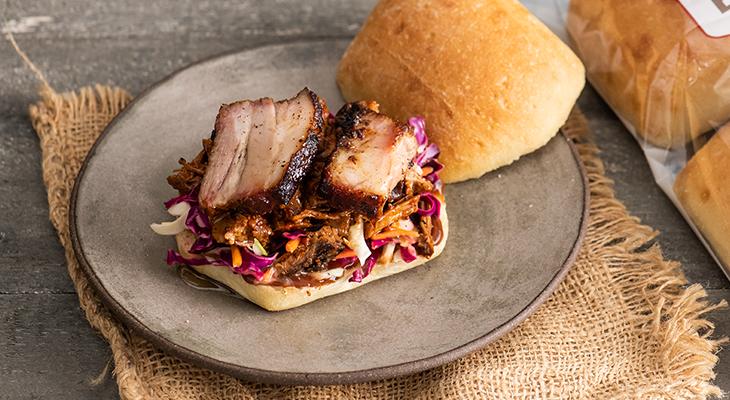 Ingredients
1 Take & Bake Telera Roll

1 cup Braise Beef (favorite recipe or prepared)

2oz Smoked Pork Belly sliced thick (favorite recipe or prepared)

4 bread and butter pickle slices

1 Tbsp BBQ sauce (favorite recipe or store bought)

1 cup mixed cabbage

1 Tsp Apple Cider Vinegar

1 Tsp Sugar

1 Tbsp Hot Honey

 
Preparation
1. Set oven to Broil.
2. Slice Telera Roll in half and put on a baking sheet.  Place in the oven and toast until just slightly browned. Remove and set aside.
3. For the slaw, put the Cabbage in a bowl and add vinegar, sugar and mint.  Let sit for 10min until flavors come together.
4. To build the sandwich, place the bread on a flat surface cut side up.  Spread BBQ sauce on the bottom, add pickles and the slaw.  Top with braised beef and then pork belly. Drizzle with hot honey and top with remaining roll half. Serve