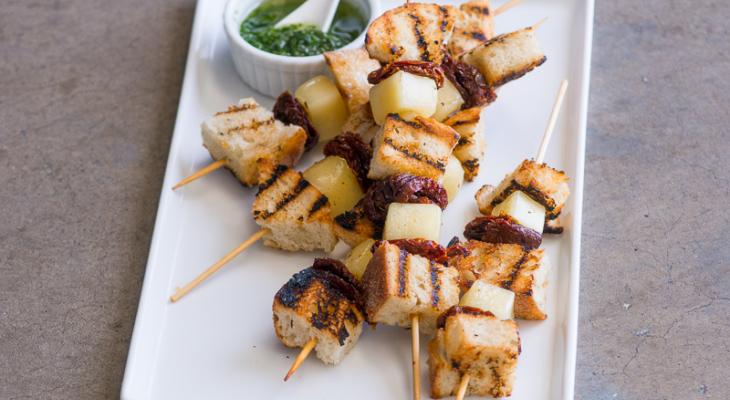 Ingredients
1 La Brea Bakery Rosemary Olive Oil Loaf cut into 1-inch cubes (about half of a large loaf)
10 sun-dried tomatoes in oil
2 tablespoons oil from the sun-dried tomatoes
1/2 cup olive oil
1 garlic clove (finely minced)
1/4 teaspoon salt
3/4 pound Monterey jack cheese (cut into 1/2 inch cubes)
Preparation
Heat grill and place grill rack at about "6 about coals or flame.
Put the 2 tablespoons of oil from the sun dried tomatoes in a large bowl.
Pat the tomato halves dry with a paper towel and cut into quarters, set aside.
Stir the olive oil, garlic and salt into the tomato oil.
Toss the bread cubes into the oil mixture until they are well-coated.
Thread bread, cheese and tomato quarters, alternately on skewers.
Grill over coals for about 5 minutes or just until the cheese begins to melt and the bread is toasted.  Serve immediately.