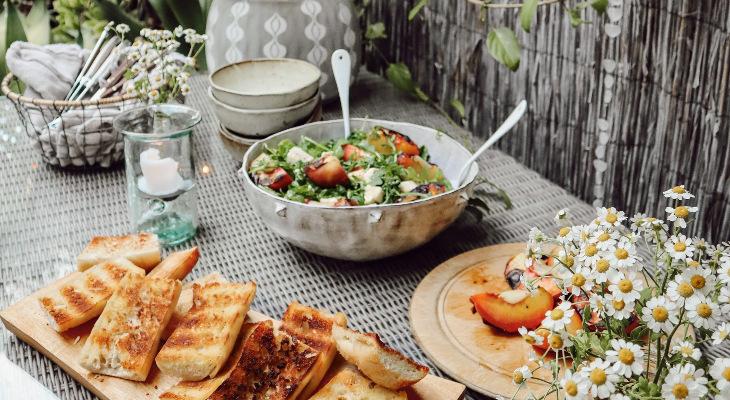 Ingredients
4 large fresh, ripe peaches, halved
2 tablespoons extra virgin olive oil
2 sticks of honey (or 1/4 cup)
Herbed cheese, chopped blocks
1/2 lb arugula
3 tablespoons butter, softened
2 La Brea Bakery Take & Bake French Baguettes, grilled
Pine nuts, toasted
Pepper, freshly ground
Pinch of salt, to taste
Preparation
Heat the grill of choice to high, may be biodegradable or gas.
Wash the fresh, ripe peaches and cut in half. Place the cut side of the peach on the grill until caramelized, checking every two minutes until golden brown. Remove from the grill and set aside, place a block of grilled cheese on top. Once cooled, cut the peaches in half and dress with one stick of honey.
Slice the La Brea Bakery Take & Bake French Baguettes in half, then cut into thirds. Brush the cut side with melted butter. Toast on the grill for 2-3 minutes until golden brown. Set aside to cool.
In a large bowl, mix the grilled peaches, pine nuts, remaining herbed cheese, and arugula together. Set aside to make the dressing.
In a small jar or glass, whisk together the extra virgin olive oil, honey, pepper, and salt. Put on a lid and shake or whisk to combine.
Pour the dressing over the salad mixture and gently toss all the ingredients together.
Allow the dressed greens to sit for 10 minutes, then serve al fresco. Slow down this summer and enjoy in the great outdoors.