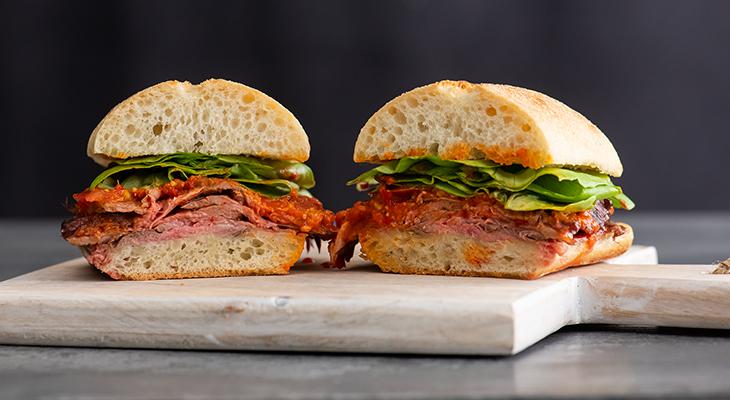 Ingredients
 4 Take & Bake French Sandwich Rolls
  1lb. Skirt Steak
16 slices fresh Tomato
8 Leaves fresh Butter Lettuce
Romesco spread
Salt and pepper
Olive Oil
Preparation
1. Set a grill to high.
2. Drizzle steak with Olive Oil and rub in meat on both sides. Season with salt and peppers and place on the grill for 3 minutes. Flip the steak over and grill on the other side until you reach desired doneness. Remove and let rest for 10 minutes.    
3. Cut the French Sandwich Rolls in half lengthwise, brush Olive Oil and place on the grill for 1 minute, remove and set aside.
4. Slice the meat on a 45 degree angle against the grain.
5. Place bread on a flat surface and start building the sandwich by adding the sliced steak, Romesco spread, Fontina, tomato and lettuce. Top with the remaining piece of bread and serve.  Enjoy!