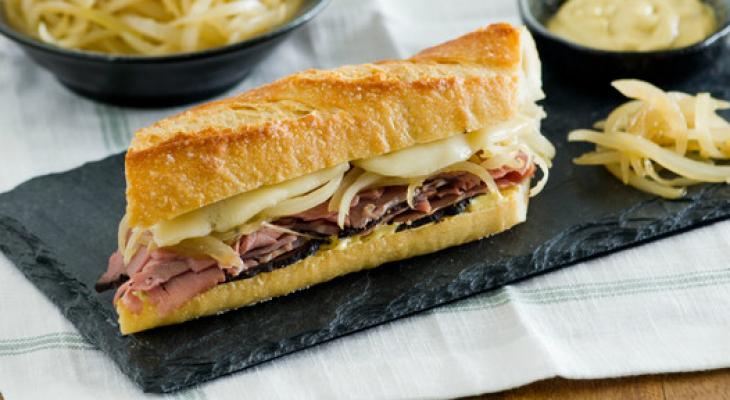 A savory sandwich that is perfect for lunch or dinner.
Ingredients
1 Colorado Leg of Lamb, deboned
4 Oz. Fresh Rosemary
3 Garlic Heads
2 Tbsp. Honey
1 Cup Grape Seed Oil
2 Large Yellow Onion, Julienned
2 Oz. Butter
1 Oz. Kosher Salt
1 Oz. Granulated Sugar
8 Slices Fontina Cheese
Preparation
Combine kosher salt, sugar, cloves from 1 head of garlic and half of the rosemary with 1 gallon of water and stir until dissolved. Place leg of lamb in brine and refrigerate for 4-6 hours. Place cloves from 2 remaining heads of garlic in small ovenproof dish and cover with ¾ cup of the grapeseed oil. Cover with aluminum and place in 200 degree oven for 60-75 minutes or until garlic becomes soft and can be mashed with a fork. Drain cloves and reserve oil. Place softened cloves in a food processor and blend with grain mustard, 2 Tbsp. of reserved oil and honey to make a paste. Season with salt and pepper and set aside.
Preheat oven to 475 degrees. Remove lamb from brine and dry off with paper towels. Chop remaining rosemary and combine with half of the garlic mustard spread. Rub into all sides of the lamb and place on roasting rack in a roasting pan. Roast in hot oven for 10 minutes and then reduce heat to 300 degrees. Cook lamb until internal temperature reaches 120 degrees. Remove from oven and place on cutting board to rest, covered with aluminum foil.
While lamb is roasting, combine butter with remaining reserved garlic oil in medium sauté pan over medium/high heat. Add onions, 2 tablespoons of salt and a generous helping of fresh black pepper. Stir occasionally until onions begin to soften. Reduce heat to low and cook for 30 minutes while stirring occasionally until onions are tender, translucent and light brown in color.
To assemble sandwich, cut baguette into 4 pieces and slice lengthwise. Spread remaining garlic mustard spread on top layer of each piece of bread. Shave lamb into this slices and pile onto bottom half of baguette. Top with Fontina cheese and caramelized onions.