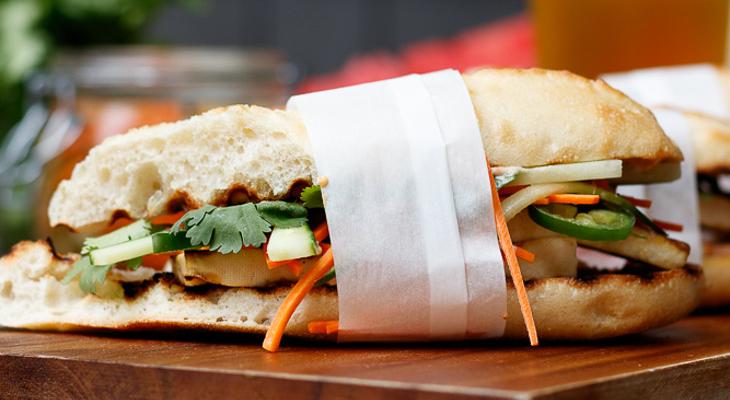 Recipe By: Amanda Frederickson
Ingredients
For the pickled vegetables:
2 carrots, cut into matchsticks
1/2 cucumber, cut into matchsticks
1 jalapeno, sliced
3/4 cup rice wine vinegar
1 tsp. salt
1 tsp. sugar
For the tofu:
1 lb extra firm tofu
1 clove garlic, minced
1 Tbs. ginger grated
Juice and zest of 1 lime
2 Tbs. fish sauce
1/4 cup vegetable oil
For the sandwich:
1/4 cup vegetable oil
1/2 cup mayonnaise
Sriracha and fish sauce to taste
fresh cilantro and mint
Preparation
1. Place the carrots, cucumber, and jalapeno in a heat safe bowl or jar.
2. Bring the vinegar, salt, and sugar, and 3/4 cup of water to a boil, reduce heat and stir until the sugar and salt have dissolved. Pour the vinegar mixture over the vegetables. Let come to room temperature and chill for at least an hour or in the fridge for up to a week.
3. When ready to make the sandwiches, slice the tofu into 1/2" thick pieces. Lay the tofu on a paper towel lined sheet tray (or any flat surface) and cover with paper towels. Place another sheet try on top of the tofu and allow some of the liquid to drain off of the tofu. (If you don't have another sheet tray use a flat surface that is not too heavy, we want to apply pressure to the tofu but don't want to smush it). Let the tofu sit for about an hour then place in a shallow dish. Make the tofu marinade by combining the garlic, ginger, lime zest and juice, fish sauce, and vegetable oil. Pour over tofu and allow the tofu to marinate for at least an hour or up to overnight.
4. Preheat a grill over medium high heat. Slice the baguettes in half and brush the cut side of the baguette with oil then place cut side down on the grill and grill the bread for about 1 minute or until bread is warm and slightly chard. Grill the tofu alongside the bread until the tofu is warm and slightly charred about 4 to 6 minutes, flipping halfway through.
5. Assemble the sandwiches by spreading mayonnaise on both sides of the bread followed by sriracha to taste. Divide half of the tofu between the baguettes followed by the pickled vegetables and a handful of fresh herbs.
6. Serve banh mi with more fish sauce and sriracha to taste.