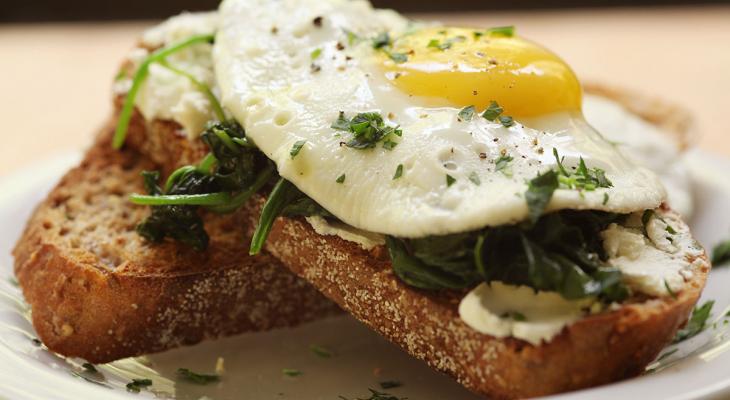 Our whole grain loaf is the perfect platform for this delicious and decadent breakfast sandwich.
Ingredients
4 Large Eggs
8 oz. Fresh Baby Spinach
4 oz. Fresh Goat Cheese, room temperature
4 Tbsp. Olive Oil
1 ½ tsp. Salt
Freshly ground black pepper
Chopped parsley as garnish
Preparation
Set oven to warm or lowest temperature setting (usually 200 degrees). Lightly toast the sliced bread and place in oven on an oven safe sheet pan. Crack the eggs into a bowl being careful not to break the yolks. Put two large (preferably non-stick) saute pans on medium heat. Add two Tbsp. of olive oil to each pan.
Gently add the eggs to one pan and sprinkle evenly with one tsp. of salt and 4 quarter turns of the pepper mill. Immediately after adding the eggs, place the spinach in the other pan, one handful at a time, tossing or stirring the spinach in the pan between handfuls, until all the spinach is added. Season with 1/2 tsp. salt and 2 quarter turns of the pepper mill.
Remove spinach from heat and lightly squeeze the excess water from the spinach. When eggs have cooked to your desired doneness, place a piece of bread on each plate and spread each evenly with the goat cheese. Divide the spinach evenly between each piece of bread. Using a soft spatula, divide the eggs into four sets of two and carefully transfer them to the bread, on top of the spinach. Sprinkle with parsley if desired.