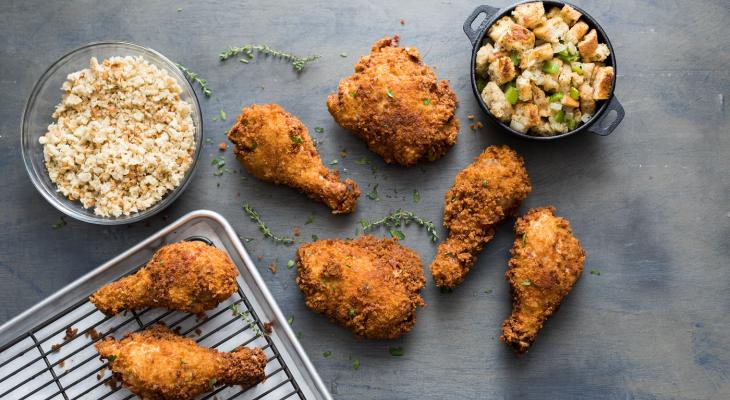 Make the most of our Holiday Stuffing Loaf with this tasty fried chicken recipe.
Ingredients
1 cup flour
2 Tbsp. Coarse Salt
1 qt. Buttermilk
1 ea. Chicken (3-4 lbs. cut into 10 pieces)
3 cup Vegetable Oil
Ground Pepper to taste
Preparation
Place all 10 slices of bread in the food processor and pulse until the bread becomes a semi-fine bread crumb texture. Transfer to a wide shallow dish and season with salt and pepper.
In a large glass bowl, whisk together buttermilk, 2 tablespoons salt, and ¾ teaspoon pepper. Dredge chicken in flour mixture, then submerge in buttermilk mixture. Cover and refrigerate 3 hours.
Place a wire rack on a rimmed baking sheet lined with paper towels. In a large cast-iron or other heavy skillet, heat oil to 350°F.
In batches, lift chicken from buttermilk, letting excess drip off, and dredge in bread crumbs and gently place in hot oil.
Fry chicken until golden brown and cooked through, 16 to 20 minutes per batch, flipping once (adjust heat if browning too quickly). With tongs, transfer chicken to rack to drain, 5 minutes.