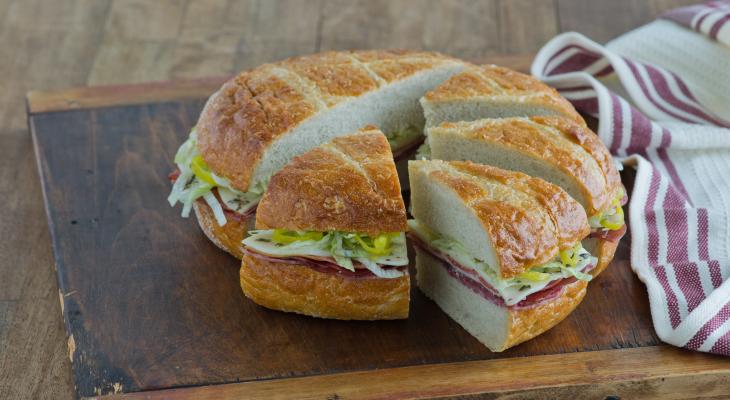 Ingredients
4 tablespoon red wine vinaigrette 
1 cup iceberg lettuce or romaine (shredded) 
2 peperoncinis, sliced, plus 1 ½ teaspoon peperoncini juice from the jar
3 ounces turkey 
3 ounces capicola (spiced Italian ham, can substitute sopressata or prosciutto)
3 ounces salami 
4 slices provolone cheese 
For the Vinaigrette
1 tablespoon red wine vinegar
1 ½ teaspoon peperoncini juice from the jar
1 teaspoon dried oregano
1 garlic clove, peeled and finely chopped
¼ cup extra-virgin olive oil
¼ teaspoon kosher salt
Freshly cracked black pepper, to taste
 
Preparation
In a bowl, whisk together the vinegar, oregano, garlic, olive oil, salt and pepper.  Season with additional salt and pepper to taste.
To assemble the sandwich: Slice the Italian Round in half horizontally so you have a top half and the bottom half of the bread. Drizzle 2 Tablespoons of the Vinaigrette on the interior of the bottom half of the bread.  Place the slices of the turkey, capicola, and salami on the bottom half of the bread. Place the slices of provolone cheese on top of the meats.  Shred the iceberg lettuce and mix with the sliced pepperoncinis. Toss in the remaining vinaigrette. Place the lettuce mixture on top of the cheese. Close the sandwich with the other slice of bread. Wrap the entire sandwich tightly in plastic wrap. Place a weighted object (such as heavy frying pan or dutch oven) on top of the sandwich to press it down. Refrigerate for at least 2 hours or preferably overnight with the weighted object on top so the sandwich compresses.
Remove sandwich from refrigerator.  Slice, like pizza, into 8 wedges.