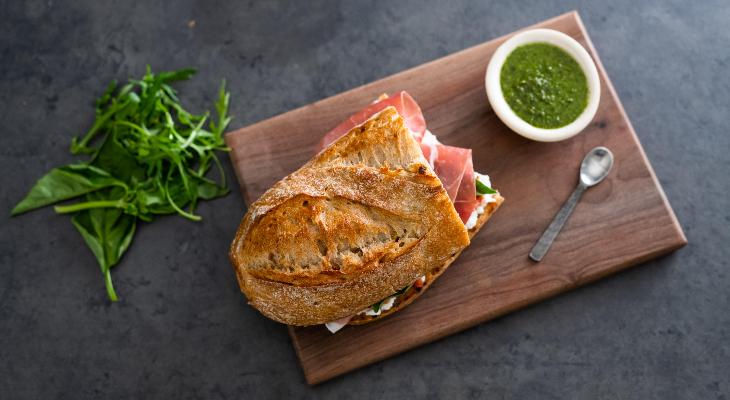 Ingredients
1 loaf of Organic Wheat Loaf sliced in half & lengthwise

3oz prosciutto

1 cup farmers market arugula

2 Tbsp ricotta

1 Tbsp panne tomate

1 Tbsp cashew-kale pesto

1 clove garlic cut in half

1/4 cup fresh basil

Olive oil
Preparation
Heat grill pan over medium heat.
Brush bread slices with olive oil and grill lightly.  Remove and rub each pieces with garlic.
Panne Tomate:
Mix 1 cup of day hold with 2 cups of canned tomato in to a sauce pan, add 1 Tbsp of olive oil and salt and pepper to taste. Cook over low heat until bread completely and has a porridge consistency.  Set aside to cool
Pesto:
Start with your favorite store bought pesto.  Add 1/2 cup of Kale and 1 Tbsp of cashews to a food processor and process until fine. Add mixture to pesto and mix well. Add more pesto if too thick.  
Sandwich:
Using 1 half of loaf, spoon 1 Tbsp of panne tomato on to bottom piece of bread.  Next, add ricotta, basil, prosciutto and top with arugula. Spread pesto on remaining piece of bread and top to complete sandwich. Serve.