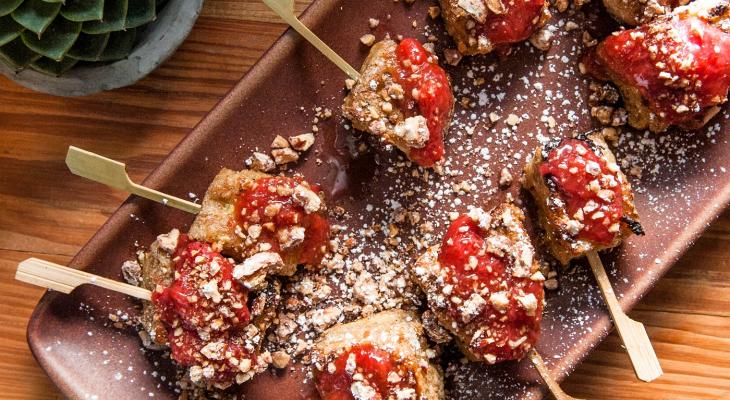 Perfect for entertaining.
Ingredients
3 Eggs
¾ cup Half and Half
1 tsp. Vanilla
½ tsp. Cinnamon
Pinch of Salt
Preparation
Combine all ingredients in mixing bowl and beat until thoroughly combined.
Cut Struan bread into 1 inch cubes and place a wooden skewer into each cube. Heat non stick pan over medium heat for 2 min.
Add 1 oz of butter to the pan along with 2 oz of grape seed oil. Dredge enough Struan skewers to fit the pan comfortably in the egg mix.
Hold each bread cube in the egg mix for about 3 seconds before placing in the pan. Once the pan is full, turn each skewer in order to get color on each side of square.
If bread cubes are taking on too much color, turn heat to low and continue. Once all 5 sides are cooked, remove from heat and place on paper towel to dry off any remaining oil.