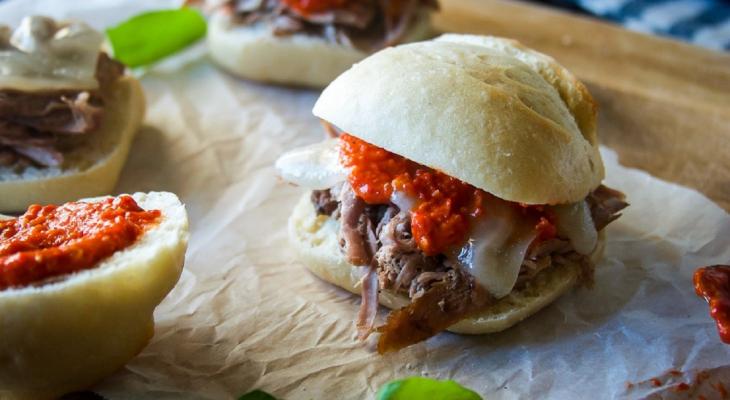 Flavorful pork tenderloin topped with manchego cheese and romesco sauce served up in our Take & Bake French dinner roll.
Ingredients
2 ½ lbs. Pork Tenderloin
1 ea. Medium Onion, Sliced
2 cups Chicken Stock
¼ cup Brown Sugar
¼ cup Soy Sauce
4 ea. Bay Leaves
1 ea. Jarred Roasted Red Pepper (About a half a cup if you're using pre-sliced red peppers)
¼ cup Tomato Sauce
¼ cup Slivered Almonds
2 Tbsp. Olive Oil
1 Tbsp. White Balsamic or White Wine Vinegar
Pinch of Salt
Pinch of Chili Flakes
6 slices manchego Cheese
Preparation
1.    Place the sliced onions in the bottom of your slow cooker. Lay the tenderloin on top, slicing it in half if necessary to fit in a single layer.
2.    In a bowl combine the stock, brown sugar, and soy sauce then pour over the pork. Add the bay leaves and cover the crock pot.
3.    Cook on low for 6-8 hours.
4.    Remove the tenderloin and allow to cool for 5 minutes on a cutting board covering it with tinfoil. Use forks to shred the pork until the desired texture is reached.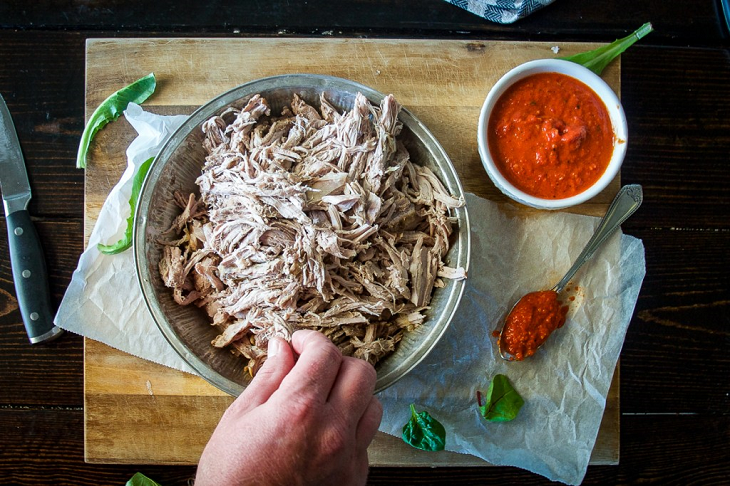 5.    Make the romesco sauce by combining all the ingredients in a blender or food processor and blend until well combined.
6.    Bake the La Brea rolls according to the package directions then turn the broiler on.
7.    Slice each roll in half then top the bottom half of each roll with a pile of the shredded pork. Add a slice of manchego on top of each roll and place under the broiler until the cheese has melted.
8.    Spoon the romesco over the cheese then place the top of the roll to cover the sandwich.
9.    Serve warm and enjoy!
 
Recipe by Daily Ciabatta