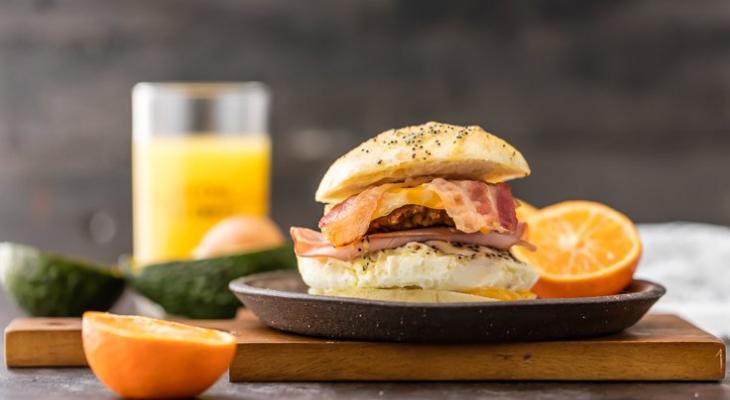 Make the ultimate breakfast sliders using this easy recipe and you'll have a delicious breakfast on the table in under an hour.
Ingredients
8 La Brea Bakery telera slider rolls, cut in half lengthwise
8 Eggs, cooked to how you like them
16 slices Colby Jack cheese
8 Sausage Patties, cooked
8 slices Ham, sliced
8 Slices of Bacon, cut in half
¼ cup Butter Melted
2 Tbsp. Dijon Mustard
1 tsp. Garlic Powder
1 tsp. Poppy Seeds
Preparation
Preheat oven to 350F.
Spray a 9x13 baking dish with nonstick spray.
Place the bottom half of each slider roll in the bottom of the baking dish.
To assemble the sandwiches, start with a slice of cheese, then eggs (if using baked eggs, use 1 per roll. If using scrambled, just scoop a large spoonful into each bun), then ham, sausage, bacon, and more cheese. Replace the tops to each slider roll.
In a small bowl, mix together the melted butter, mustard, poppy seeds, and garlic powder. Brush the top of each bowl liberally with the butter mixture.
Bake covered for 12 minutes and then remove cover. Continue cooking for another 4-6 minutes or until the bread is toasted and the cheese is fully melted.
Remove and serve.
Recipe brought to you by The Cookie Rookie.