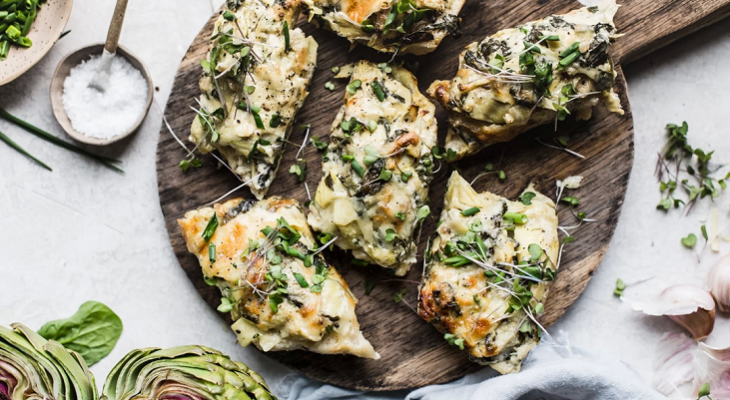 Our Take & Bake Twin Pack Baguette slathered in cheesy artichoke goodness for the perfect appetizer.  This recipe is pure magic and one of our favorite ways to enjoy delicious spring artichokes.
Recipe and images by: The Modern Proper
Ingredients
1 tbsp olive oil
1 small shallot, minced
3 cups spinach, packed
1 (14 oz) can quartered artichoke hearts, drained
8 oz mozzarella grated, divided
⅓ cup parmesan cheese, grated or shredded divided
½ cup mayonnaise
4 oz cream cheese
½ lemon, juiced
1 tsp garlic powder
¼ tsp pepper
2 tbsp chives, chopped, optional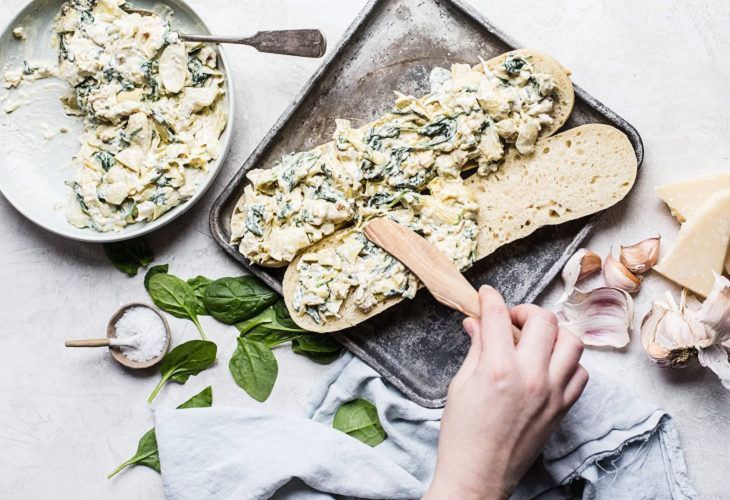 Preparation
Heat oven to 400° F.
Slice baguette in half lengthwise, set aside.
Heat a large skillet over medium heat. Add the olive oil, shallots and spinach to the pan. Sauté until shallots are softened and spinach is wilted. Turn heat off and remove pan from heat.
Add to a large bowl the artichoke hearts, mozzarella (reserve ½ cup for the topping), parmesan cheese (reserve 4 tbsp for the topping), mayonnaise, cream cheese, lemon juice, garlic powder and pepper. Add the shallot/spinach mixture to the bowl and stir to combine.
Spread the artichoke mixture onto the insides of the baguette and sprinkle evenly with the remaining cheeses. Bake for 20-25 minutes until golden brown.
Sprinkle with chives if desired. Serve warm.