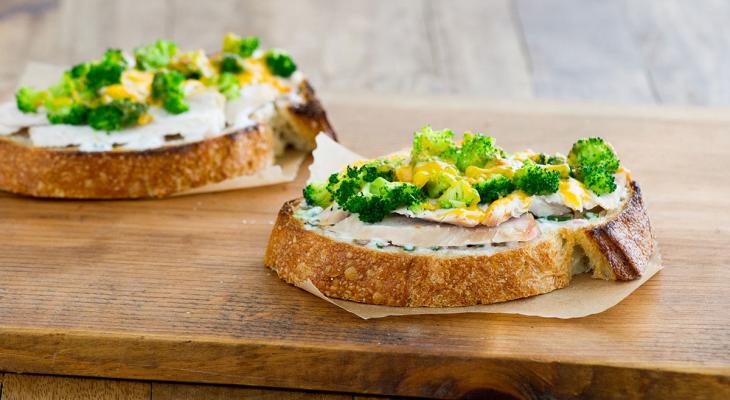 A fantastic open-faced sandwich that your kids will love to eat.
Ingredients
1 lb Roast Turkey Breast
12 x Cheddar Cheese
1 Cups Cooked Broccoli, roughly chopped
½ cups Sour Cream
1 Tablespoons Red Wine Vinegar
1 x Sugar
2 Tablespoons Freshly Chopped Chives
1 x Shallots, large
½ teaspoon Garlic salt
1 x Freshly Ground Black Pepper
Preparation
Preheat oven to 375 degrees F.
Combine sour cream, vinegar, sugar, chives, shallot, salt, and pepper in a small mixing bowl and whisk well to combine.
Lightly toast the bread slices.
Arrange the slices on a baking sheet and top with the turkey, arranging the pieces to cover the bread edge to edge.
Top the turkey with the broccoli and cover with the shredded cheese.
Place tray in oven for approximately ten minutes or until the cheese is melted well.
Remove from oven, drizzle the sour cream dressing over each, and serve.