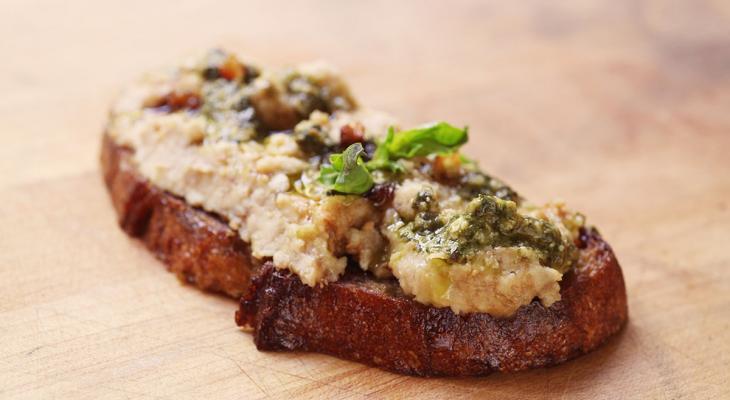 A great mixture of textures that delivers savory and sweet flavors on our appetizing wheat loaf.
Ingredients
16 oz. White Beans
4 oz. Pancetta
2 cloves Garlic, peeled
1 Shallot, large
5 Tbsp. Olive Oil
1 tsp. Balsamic Vinegar
½ x Fine sea salt
1 x Freshly ground black pepper
Preparation
Drain the liquid from the beans. Mince the garlic. Mince the shallot. Place a medium sized saute pan (preferably non-stick) over medium heat and add two tablespoons olive oil and the pancetta.
After a minute, stir the pancetta and add the garlic and shallots and cook for another minute. Before the garlic and shallot start to brown, add the white beans to the pan. Add the salt, pepper, and vinegar to the beans and stir until beans are thoroughly heated. Put beans into a food processor and pulse until smooth.
Place a separate large saute pan over medium heat and add the remaining olive oil. Place the sliced bread in the pan and move them about to be sure each picks up the olive oil. After about a minute (or when the bottom side of the bread becomes lightly golden) turn over all the pieces and continue cooking until the second side is also lightly golden.
Remove bread to a plate lined with a paper towel to absorb any excess oil. Spread the bean mixture evenly over each slice. Drizzle with basil pesto.