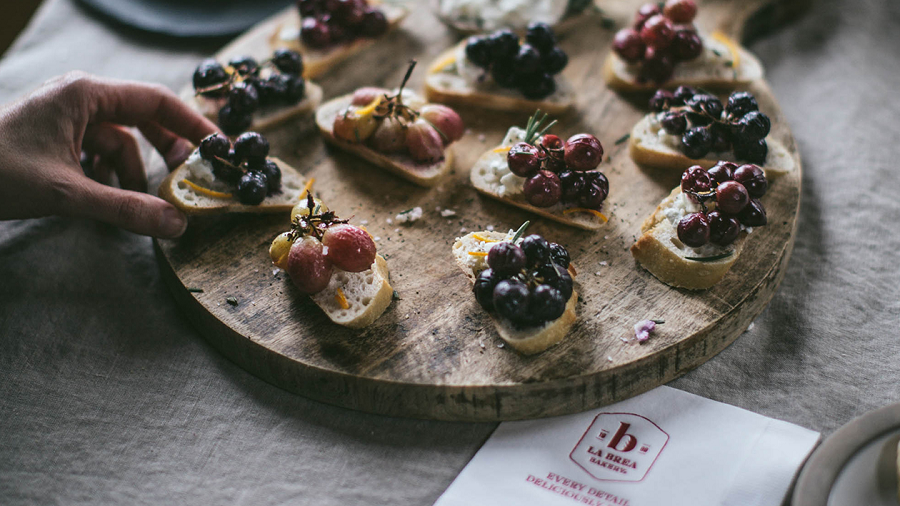 On a crisp fall weekend, Eva of Adventures in Cooking gathered fellow food bloggers together to soak up autumn glory, swap ideas, and explore all the ways artisan bread—and their delicious details—can be a part of a lavish gathering of kindred souls. 
Known for her Secret Suppers hosted at picturesque locales in the Pacific Northwest (with the locations revealed only a few days before the events), Eva crafted a memorable weekend on rustic Fox Island on Puget Sound in Washington, with every moment filled with food and inspiration. "I love cooking for people and kept being asked for recipes by friends and family, so I started my blog as a way to share those recipes and it grew from there."
Take a look at the delicious results of a genius blogger summit, and steal a minute to get to know everyone who joined the fun.
Apple Pecan Raisin Bread Pudding + Salted Caramel Drizzle 
Made by: Eva Kosmas Flores of Adventures in Cooking
Made with: La Brea Bakery Pecan Raisin Loaf. "The thick, golden caramelized crust of La Brea Bakery's pecan raisin loaf has the hearty texture needed to keep a bread pudding from getting mushy and flavorless."
Inspirations: "Nature, my Greek heritage, and the book Big Magic by Elizabeth Gilbert."
Fall Bruschetta with Roasted Grapes, Chevre, Rosemary and Hazelnuts 
Made by: Shelly Westerhausen of Vegetarian 'Ventures and author of Vegetarian Heartland
Made with: La Brea Bakery French Baguette. "When you're carefully balancing the combination of ingredients that make bruschetta sing, it's important to add the buttery counterpoint of a French baguette, sliced thickly to allow plenty of the combined flavors to soak into the open, airy crumb of the loaf's interior."
If she wasn't blogging, she'd be: "A dog walker—because, as a major introvert as a child, my best friend was my dog, Pup."
Smoky Aubergine Spread with Sliced Bread
Made by: Krissy O'Shea of Cottage Farm
Served with: La Brea Bakery Rosemary Olive Oil Round, Cranberry Walnut Loaf, and Olive Loaf. "When you're serving a spread or a topping, pair it with a bread that's been crafted according to slow-process artisan methods, allowing its flavors to develop fully and provide a mindful counterpoint to your spread's ingredients."
The one detail in life she can't live without: "Apple cider vinegar."
Fall Veggie and Chickpea Minestrone with Parsley Pesto 
Made by: Alanna Taylor-Tobin of The Bojon Gourmet
Served with: La Brea Bakery Seeded Grain Loaf. "Heartier soups are best paired with more closed-crumb, dense breads that deliver complimentary flavors, like nutty notes next to beans and root vegetables."
Where the name of her blog came from: "Bojon is 'No job,' backwards."
Fall Panzanella
Made by: Sasha Swerdloff of Tending the Table
Made with: La Brea Bakery Sesame Semolina Loaf. "When bread is the centerpiece of a dish, it's crucial you choose carefully, finding one that considers not just the ingredients, but also the process—the right loaf means an extremely unique, farm-to-dish flavor that can be a once-in-a-lifetime experience."
Number of years as a flexitarian: "Eight. I won't waste food if it's offered, but I don't want to create market demand for meat. Read Eating Animals by Jonathan Safran Foer for more!"
Shakshuka
Made by: Trisha Hughes of Eat Your Beets
Served with: La Brea Bakery Sourdough Baguette. "With Shakshuka, the crustier the bread, the better, because you'll be using bread as a utensil to scoop up every delicious bit. Thick, crunchy, golden crusts are one of the hallmarks of artisan baguettes."
Her secrets: "For a good shakshuka, sauté the spices with the peppers and onions to release the flavors. For cooking and life in general, keep things simple and don't be afraid to try something new."
Coconut Apple French Toast
Made by: Natalie Mortimer of The Modern Proper
Made with: La Brea Bakery French Loaf. "The airy, open crumb of artisan loaves allows for the perfect amount of egg to get soaked into the bread—but still allows plenty of bread edges to brown and caramelize."
Personal rules: "Never have your phone out so that guests always feel welcome. And I only use ingredients in my blog that you can find at any grocery store."