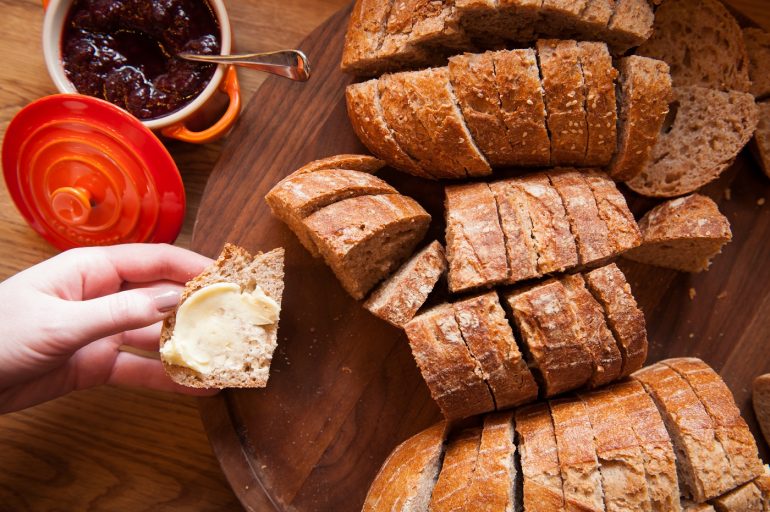 Our ethos for just about any city is to eat like the natives do. One of the biggest food focuses currently sweeping the City of Angels is farm to table, and La Brea Bakery Reserve is at the front and center. We've taken that concept and pushed it to another level with our single origin heirloom wheat, Fortuna, used in our Reserve breads.
Cochon555 is a celebration (and education) in heritage pig breeds and why they matter. The connection between our heirloom wheat and this heritage farming movement is a natural one. Cochon555 will be in Los Angeles in all its multi-chef foodie glory and you better believe La Brea Bakery Reserve will be there, too. This one-of-a-kind culinary tour sets out to educate with a tantalizing five chef roster, all competing with five heritage breed pigs to create delicious dishes in the name of safe, honest food.
What you can expect from La Brea Bakery Reserve in Los Angeles:
Struan Loaf with Old Quebec Cheddar and Guava Preserves
Fortuna Wheat Loaf with Ricotta and Spanish Olive Oil
Sourdough Fortuna Baguette with Onion jam and Comte Cheese
If you're attending Cochon555 in Los Angeles, get ready to feast on an assortment of chef-crafted pork tastings, sip on over 40 types of fine wines, craft cocktails, and artisanal brews, and small bites from La Brea Bakery Reserve. The best part? A portion of the proceeds from Cochon555 will benefit The Piggy Bank Charity.
What are your favorite pork recipes? Share with us on Facebook, Instagram, Twitter, or Pinterest with #LaBreaBakery. If we use your image, we will thank you with a free loaf of bread.