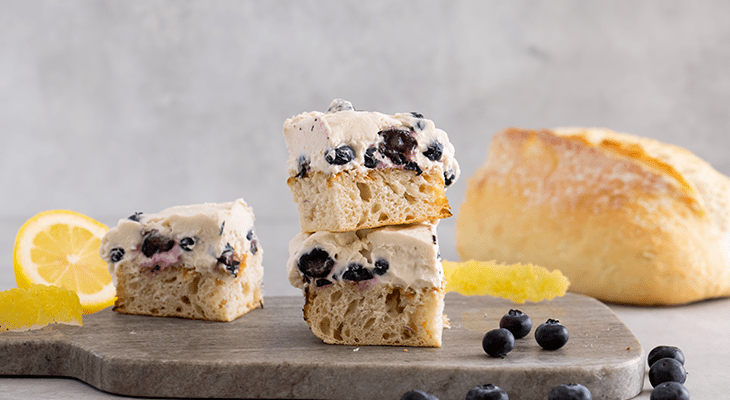 Ingredients
Cut loaf cut into 2-3 1 1/2" slices
1 1/2 cups raw cashews (pre soaked in hot water - 1hr)
2/3 cup coconut milk (refrigerated)
Fresh lemon juice from 2 lemons
1/3 cup coconut oil (melted)
1/3 cup pure maple syrup
1 cup fresh blueberries
1 Tbsp soft butter
1 tsp sugar
1 tsp cinnamon
Preparation
Put a pan over medium heat.  Spread butter on both sides of bread and sprinkle sugar and cinnamon on top of butter evenly. Put bread in pan and cook until golden brown, flip and cook the other side.  Take out and let cool.  
Cut the crust off the bread and arrange bread in buttered baking vessel  (7x5) so that the entire bottom of baking vessel is covered with a single layer bread with no space in between. 
For the topping, put the drained cashews in a blender. Add coconut milk, lemon juice, coconut oil, maple syrup and blend until smooth. Fold in blueberries and pour the mixture on top of the bread. Freeze for 1-2 hours.  When ready to serve, cut into 1'x2" bars and wait 5 minutes to serve.