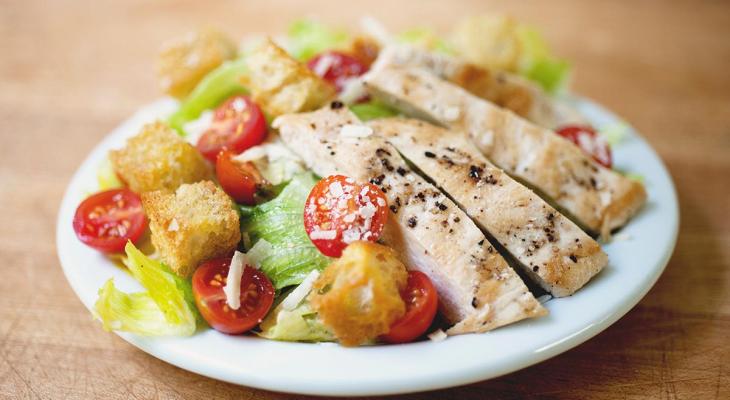 These easy-to-make croutons are your new go-to recipe. You'll never want to buy boxed croutons again!
Ingredients
6 oz. Hearts of Romaine
½ oz. Shaved Parmesan
1 Tbsp. Extra Virgin Olive Oil
1 cloves Garlic, peeled
4 x Egg Yolks
7 Cup Olive Oil, Extra Virgin
12 x Anchovy fillets
12 cloves Garlic, peeled
1 Cup Red Wine Vinegar
½ cup Lemon Juice
6 oz. Grated Parmesan Cheese
1 x Pinch of kosher salt
1 x Freshly ground black pepper
Preparation
Preheat the oven to 350 degrees. Take one loaf of Pain Rustique bread and rip into 1 ½-2 inch pieces.
Place the bread chunks on a baking sheet, drizzle them with olive oil and toss well. Season with salt and pepper. Toast them in the oven for about 10-15 minutes, until they're lightly browned, shaking the pan occasionally to ensure they're evenly baked. When the croutons are cool enough to handle, rub them with the garlic clove and set aside.
Lay out the lettuce leaves on a plate. Top with the croutons and parmesan cheese. Drizzle about 2 ounces of the Caesar dressing over the salad and garnish with shaved parmesan and black pepper.