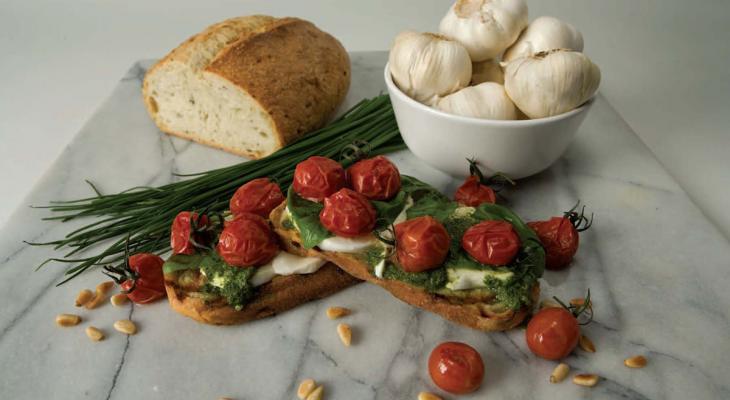 Wait for vine ripe tomatoes to make this beautiful summer recipe.
Ingredients
3 Tablespoons Pine Nuts
3 cloves Garlic, peeled, chopped
2 tablespoons Chopped Fresh Basil Leaves
2 tablespoons Chopped Flat-Leaf Parsley Leaves
1 tablespoons Kosher salt
½ tablespoons Olive Oil
¼ cup Finely Grated Parmigiano-Reggiano Cheese
1 Tablespoons Fresh Squeezed Lemon Juice
1 pounds Baby Roma or Cherry Tomatoes, on the vine
1 tablespoons Olive Oil
1 x Kosher or Sea Salt
1 x Freshly Cracked Black Pepper, to taste
1 pounds Burrata or mozzarella di bufala bocconcini
4 Tablespoons Pesto
4 x Large Basil Leaves
Preparation
Heat the oven to 200 degrees. Place the tomatoes with vines intact on a wire rack set on a baking sheet. Brush with 1 tablespoon of the olive oil and season with salt and pepper. Roast 4 to 4 ½ hours, until the skins begin to shrivel like a raisin, but the tomatoes remain plump. Remove from the oven and allow to cool to room temperature.
Raise the oven temperature to 325 degrees. Spread pine nuts on a baking sheet and toast in the oven for 8-10 minutes, until lightly browned. Let cool.
Using a mortar and pestle, pulverize the pine nuts, garlic, basil, parsley and salt into a smooth paste. Slowly drizzle in the olive oil and add the Parmigiano-Reggiano, mixing well to incorporate. Just before serving, season with lemon juice and additional salt to taste.
Slice the loaf into 8 slices. Brush both sides of each slice of bread with the olive oil. In a moderately hot skillet, grill the bread until golden brown on both sides.
Divide the cheese evenly, cut into quarters or into halves depending on whether each piece is 8 or 16 ounces, and place it cut side up onto the four slices of bread. Season the cheese lightly with sea salt (skip this step if using mozzarella di bufala). Spoon 1 tablespoon of pesto sauce over each portion. Using scissors snip a basil leaf over each portion. Top with tomatoes, divided evenly among each slice of bread, leaving the vine intact (use scissors to cut the vine for each serving). Drizzle the tomatoes with olive oil (about ½ teaspoon per serving) and serve immediately.