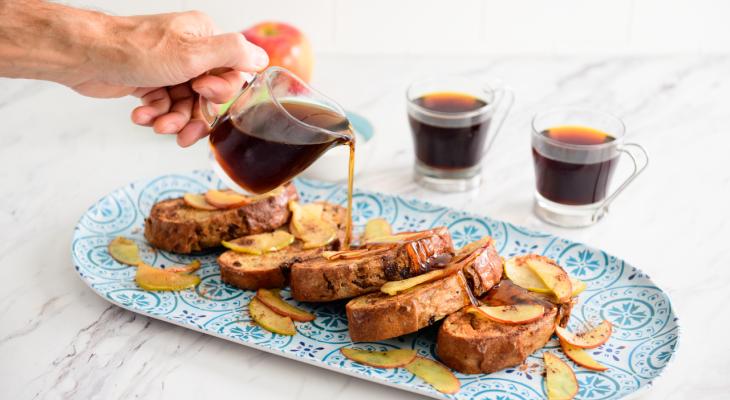 Ingredients
3 large Eggs
1 Tsp Vanilla Extract
2 cups Milk 
1 Tbsp Cinnamon
1 Tsp Salt
1/2 cup Apple Cider or Juice
1 tsp Apple Cider Vinegar
1 cup Maple Syrup
2 Apples, Sliced Thin
2 Tbsp Butter
Preparation
 
1. Cut La Brea Bakery Cinnamon Raisin Loaf into slices about 2  inches thick.
2. In a bowl, mix eggs, vanilla extract, milk, salt and cinnamon.  
3. Next, in a large nonstick pan, melt 1 tbsp butter over medium heat. Then, dip bread slices in the mixture (letting them soak for a few seconds)  and then place them in the pan, making sure there is room between each to flip. When the bottom just starts to brown, flip and cook the other side.  
4. When the second side is lightly browned, remove from the pan and set aside.
5. In another small nonstick pan, melt the remaining butter over medium heat and add apple slices.  
6. Saute until the apples are soft and have some golden color.  Remove and set aside.
7. To make Apple Cider Syrup, combine apple cider, apple cider vinegar and syrup in a small saucepan. Cook over low heat until it reduces slightly and the consistency is like syrup. Remove and set aside.
8. To serve, layer the Cinnamon Raisin French toast on a plate and top with apples. Pour over syrup, sprinkle cinnamon and serve.