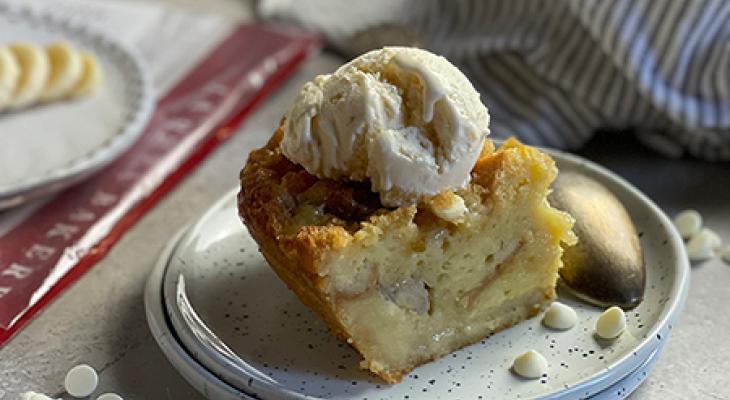 A decadent, rich and delicious twist on a classic that will make your mouth water as soon as you hear its name. The velvety white chocolate and sweet bananas along with the texture of the Italian Round make brunch the best meal of the day. 
Ingredients
1 22 ounce La Brea Bakery Round Italian Loaf, cut into ½ inch slices
12 egg yolks at room temperature
1 cup plus 2 tablespoons granulated sugar, divided
3 cups milk at room temperature
3½ cups heavy cream at room temperature
1 teaspoon vanilla extract 
½ teaspoon salt
3 medium bananas, sliced
1 1/3 cups white chocolate chips 
3 ounces brown sugar 
3 ounces melted butter (for brushing the top of the bread pudding prior to topping) 
Preparation
Preheat oven to 250°F. Place the bread slices onto two cookie sheets and bake for 10 minutes to dry out. 

While the bread is baking, whisk the egg yolks and 1 cup sugar in a large bowl until smooth. Add the milk, heavy cream, vanilla extract, and salt to the egg yolk mixture and whisk until fully combined; set aside. Combine the brown sugar and the remaining 2 tablespoons granulated sugar in a small bowl and mix until well blended; set aside.

Remove the bread from oven. Let cool for 10 minutes. The oven can be turned off at this point.

Heavily grease a deep 13 x 9 pan with butter. Place full slices of bread on the bottom of the pan to form a single layer.

Cut the remaining bread into cubes and add to the custard mixture. Add the banana slices and the white chocolate chips, and mix until incorporated. Pour the custard mixture over the bread slices in the pan.

Place a sheet of plastic wrap over the pan and place another pan on top of it to weight down the bread and custard mixture; let sit for 30 minutes so the mixture condenses.

After 20 minutes, preheat the oven to 350°F.

Remove the top pan and brush the top of the pudding with the melted butter, then sprinkle the sugar mixture over the entire top of the bread pudding. Bake for 30 minutes or until it is golden brown and the internal temperature registers 170°F. Cool for 30 minutes and serve.