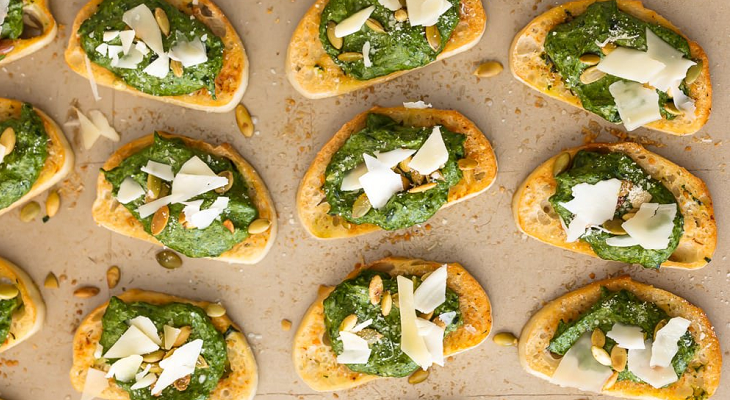 Warm Parmesan Spinach Dip piled onto toasty French Bread is the ultimate in bruschetta recipes. This is one of our favorite game day or holiday recipes to make in a pinch.
Recipe and images by: The Cookie Rookie
Ingredients
1 French Demi-Baguette, sliced into 1/2 inch slices
2 tablespoons salted butter, melted
1 tablespoon minced garlic
1 cup grated parmesan cheese, divided
1 tablespoon fresh parsley, finely chopped
1 (9 ounce) box frozen chopped spinach, thawed and drained according to package instructions
4 ounces light cream cheese
1 teaspoon fresh lemon juice
2 tablespoons basil pesto
1/4 teaspoon salt
1/4 teaspoon black pepper
1 teaspoon balsamic vinegar
pepitas and shaved parmesan for garnish (optional)
Preparation
Preheat oven to 375F
Spray a large baking sheet with nonstick spray. Lay the bread slices in a single layer on the baking sheet.
In a small bowl, mix together the melted butter, garlic, and parsley.
Brush each top side of bread liberally with the butter mixture. Take 1/2 cup grated parmesan and sprinkle over the top of each bread slice.
Bake in the oven for 5-6 minutes or until toasty and starting to brown on the edges. Remove from the oven and set aside.
In a blender or food processor, blend together the spinach, cream cheese, lemon juice, pesto, salt/pepper, vinegar, and remaining 1/2 cup parmesan cheese. Blend until as smooth as you like.
Spoon 1 tablespoon of the spinach dip onto each piece of bread and sprinkle with a bit more grated parmesan.
If not ready to serve, cover with plastic wrap and keep in fridge up to 6 hours or until ready to serve.
When ready to serve, remove from the fridge and place under a broiler for 3-4 minutes or until spinach mixture is hot and bubbly and bread is toasted to your liking.
Garnish with pepitas or shaved parmesan (optional)
Enjoy!