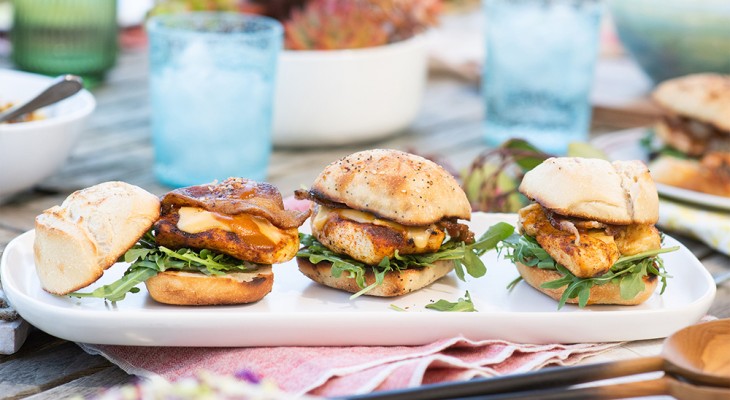 Ingredients
La Brea Bakery Take & Bake Everything Dinner Roll sliced in half
2 oz Chicken Breast pounded to 1 inch thick
1 Tsp cajun spice blend (favorite store bought)
1 slice cheddar cheese
1⁄2 cup fresh arugula
1 piece thick cut bacon cooked and cut in half
2 Tsp Carolina mustard sauce (favorite store bought)
Salt and pepper
Oil spray
Preparation
Preheat grill to high heat.
Spray grates with oil. While the grill is heating, season the chicken on both sides with cajun spice and then place on the grill. Cook for 4 minutes.
While cooking, spray the roll with oil and grill until just starting to get golden brown on edges.
After 4 minutes, flip, season with salt & pepper and cook for another 3 minutes until fully cooked. Add the cheese and let cook for 1 minute until melted.
To build, spread 1 Tsp of mustard sauce on the bottom roll and then add the arugula. Place the cooked chicken on top. Add the bacon and remaining Tsp of sauce. Top with remaining roll half and serve warm.