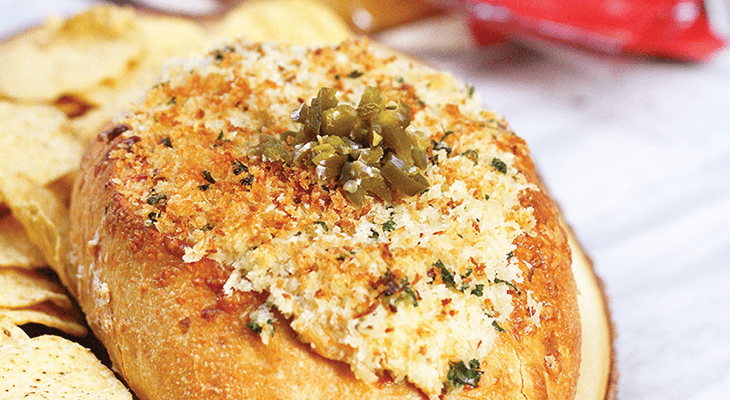 A twist on a classic cheesy party favorite, this easy to make three cheese jalapeno popper dip is sure to be a hit at your next get together.
Ingredients
1 (4oz.) Can Diced Jalapenos, Well Drained
1 (4oz.) Can Diced Green Chilis, Well Drained
1 (8oz.) Package Cream Cheese, Softened
1 cups Sour Cream
1 tsp. Garlic Powder
1 tsp. Cumin
1 tsp. Cayenne Pepper
2 cup Cheddar, Shredded
1 cup Parmesan Cheese, Shredded
¼ cup Crisp Chopped Bacon
1 cup Panko Bread Crumbs
4 Tbsp. Butter, Melted
1 Tbsp. Fresh Parsley, Chopped
Preparation
Preheat oven to 375 degrees.
Use a small knife to cut a ring around the top of the bread off and pull out the bread to form a bowl. Place bread on foil. Set insides of the bread to the side.
In a small food processor, pulse half of the insides of the bread into bread crumbs. The other half can be cut into chunks and toasted to be used to eat the dip.
With a mixer on medium, combine cream cheese, garlic powder, cumin, cayenne, and sour cream until fluffy.
Add the pulsed bread crumbs, cheddar cheese, 3/4 cup parmesan cheese, bacon, diced jalapenos, and diced green chilies and mix well. Pour into bread bowl.
Combine panko bread crumbs, melted butter, remaining shredded parmesan cheese, and parsley and sprinkle the crumb topping over the cream cheese mixture.
Wrap bread in foil and bake for 30 minutes. Remove the foil and bake the bread for an additional 10 minutes until the panko bread topping is golden brown.
Serve with corn chips and the bread pulled out of the bread bowl!
Recipe by: Ev's Eats