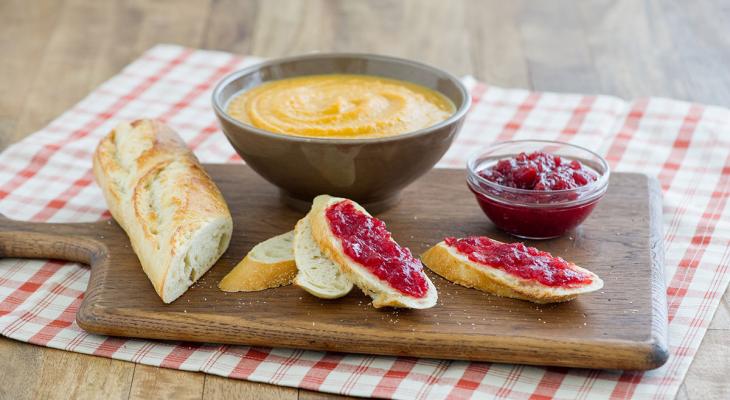 Great fall flavors make for a cozy meal for the family.
Ingredients
2 Tbsp. Olive Oil
3 cloves Garlic, peeled, chopped
1 Medium Yellow Onion, peeled, diced 1/2
2 ½ cups Chicken Stock
3 cups (Packed) Baked Sweet Potato, skin removed
1 Tbsp. Fine Salt
½ tsp. Ground Black Pepper
½ cup Heavy Cream
½ cup Cranberry Sauce
Preparation
In a tall sauce pot over medium heat, add the olive oil and then the garlic and sauté for one minute, stirring constantly.
Add the onion, salt and pepper, and cook for five minutes or until tender, stirring occasionally.
Add the chicken stock and potato and brink to a boil, stirring to combine.
Reduce heat , add cream and simmer for ten minutes.
Remove from heat and, using a hand blender, carefully blend the soup until smooth.
Adjust seasoning to taste and return to very low heat until serving.
Toast the bread and spread the cranberry sauce to cover one side of each slice.
Serve the soup in bowls with cranberry croustades on the side.