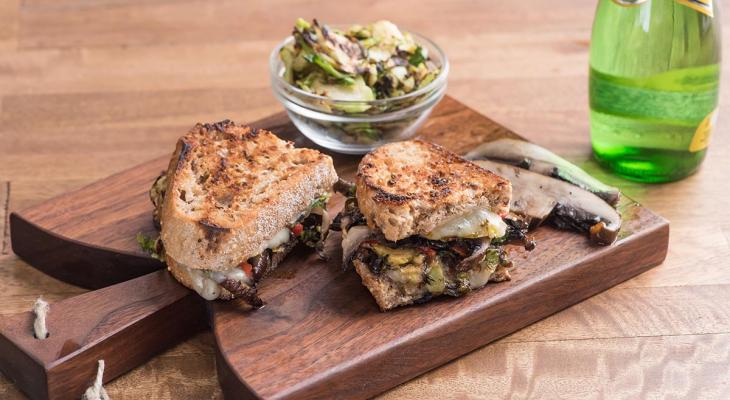 You won't miss this meat on this ooey gooey and delicious grilled cheese sandwich.
Ingredients
1 Tablespoons Softened Butter
4 Slices Fontina Cheese
1 x Portabella Mushroom, Grilled and Sliced
½ cups Shaved Brussel Sprouts
1 Teaspoons Roasted Red Pepper
1 Teaspoons Thyme Aioli
Preparation
Place a medium cast iron skillet or similar over medium low heat and preheat the pan for 2 minutes while you assemble the sandwich.
Butter each slice of bread on one side and lay the bread out on your cutting board butter side down.
Place two slices of Fontina on each piece of bread, add Portabella mushroom, roasted red pepper and shaved Brussels sprouts.
Spread Thyme Aioli on second slice of bread and top to complete the sandwich.
Carefully transfer the sandwiches to the preheated pan and cook over medium low heat for 3 minutes per side or until bread is golden brown and cheese has melted.
Cut and serve.