Spooky Season is Finally Here!
Ah, Halloween—the time of year when the air turns crisp, leaves rustle underfoot, and the world takes on an enchantingly eerie quality. At La Brea Bakery, we believe that every Halloween party should carry a touch of magic, especially when it comes to the foods you serve to your guests.
Halloween is a time for gathering with friends and family, for sharing scary stories, and for indulging in treats that send a shiver down your spine—in a good way! Here are some exciting ideas for spooky season snacks that will thrill guests of all ages.
Terrifyingly Tasty Recipes
La Brea Bakery's versatile Take and Bake Rustic Ciabatta Loaf features a thin, soft crust with a tender interior, making it perfect for Halloween cuisine with frightening flair! Mummy Pizzas are made with baked ciabatta loaf sliced in half and spread with sun-dried tomato pesto or pizza sauce. Sprinkle each slice with mozzarella cheese and arrange thinly sliced zucchini to make the mummy's "wrapping." Add sliced black olives for eyes, and bake at 375 degrees F for about 20 minutes.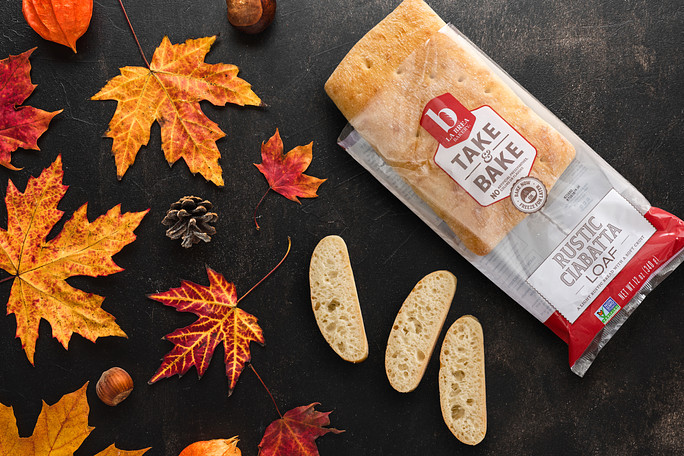 Another fun way to use La Brea Bakery Rustic Bakery Ciabatta Loaf is in Cheesy Bread Fingers. Halve a Ciabatta Loaf and place both halves crust-down on a foil-lined baking sheet. Mix softened butter and garlic together in one bowl, and in another, combine mayo, sour cream, and freshly shredded mozzarella and cheddar cheeses. Mix the garlic butter into the cheese mixture, then spread it evenly on bread and broil 2-4 minutes. Cut bread into finger-width slices. Cut pepperoni slices into quarters to resemble fingernails and place a piece onto the top of each "finger." Serve with a side of marinara dipping sauce.
La Brea Bakery's Take and Bake Everything Rolls, featuring a soft interior and crunchy top with onions, poppy seeds, sesame seeds, and salt, give Monster Meatball Sliders even more savory flavor. A simple hack to make this recipe quick is to use frozen meatballs – simply meatballs according to package directions and add your favorite marinara sauce. Cut small triangles out of a half-block of mozzarella cheese and shred the other half. Bake and halve the rolls. Sprinkle shredded cheese on the bottom half of each roll, and add meatballs, sauce, and the top half of the roll. Attach olive slices to toothpicks and stick two into each slider for eyeballs. Add cheese triangles to the front of each slider for teeth.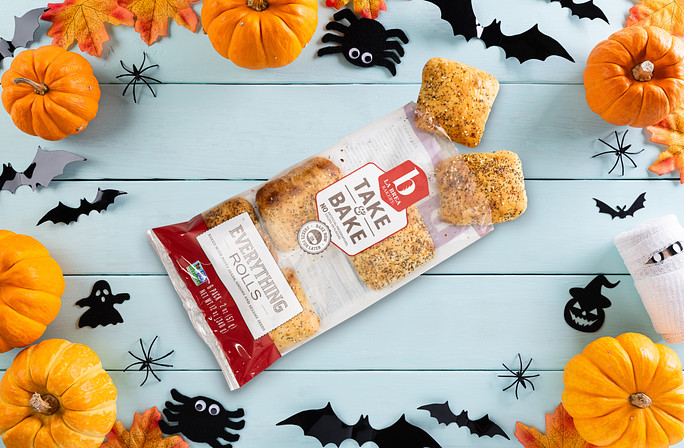 La Brea Bakery Sourdough Loaf, with its mildly tart and subtly sour flavor, is great for toast anytime, and is especially perfect for Spooky Avocado Toast. Slice avocados in half, remove the stones, and scoop out the flesh into a bowl. Add lemon juice and a pinch of salt and pepper, and mash until combined. Cut facial features, zigzags for hair, thin strips for scars, etc. from seaweed sheets. Pieces of red bell pepper can be used to make lips, fangs, nostrils, and more. Use radish slices for eyeballs and olive slices for eyes. Spread the mashed avocado on toast and decorate any way you wish!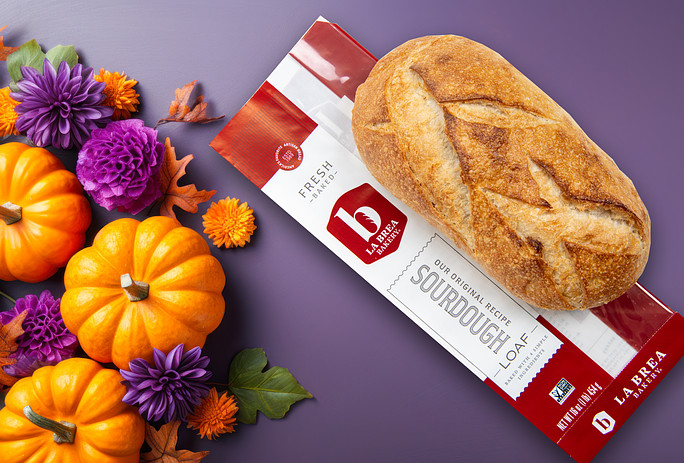 The crispy crust and smooth taste of our French Baguettes make them a great option for making Mummified Garlic Bread. To start, toast garlic cloves and prepare a cheesy garlic topping with the toasted and minced garlic, butter, parmesan, salt, and pepper. Next, slice the baguettes in half lengthwise and again crosswise. Spread the cut side of each bread piece with topping and decorate with sliced black olives and cheese strands. Bake until the cheese has melted.
With these ideas, your Halloween party food table will be a hit and create a memorable experience for your guests!
Enjoy hearth-baked, handcrafted artisan bread throughout the year with La Brea Bakery breads, sold at grocery stores and online retailers across the country. Find La Brea Bakery breads near you!