Elevate your next French Toast meal with this bananas foster inspired recipe.
Ingredients
6 tablespoons unsalted butter

1/3 cup brown sugar

¼ cup rum

4 bananas, sliced into ½ pieces on the bias

¾ cup milk

4 large eggs

½ teaspoon ground cinnamon

½ teaspoon vanilla extract

8 slices La Brea Bakery Pane Toscano Bread

confectioners sugar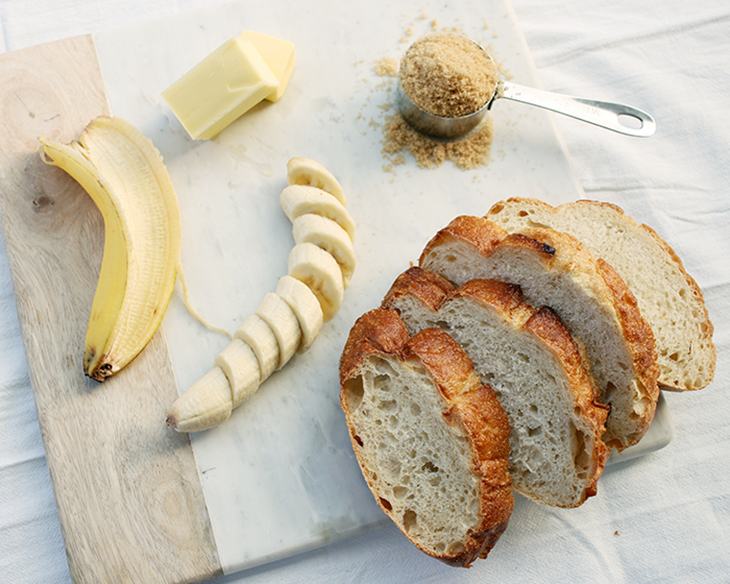 Preparation
Heat 4 tablespoons of butter in a skillet over medium heat until melted, add brown sugar, rum and stir until sugar dissolves. Add bananas and reduce heat to medium-low. Cook, stirring gently until bananas are soft and cooked through, about 2-3 minutes. Set aside. 
In a medium bowl, whisk together the milk, eggs, cinnamon and vanilla extract.
Melt remaining 2 tablespoons of butter in a large skillet over medium-high heat.
Dip 4 slices of bread into the milk mixture, coating both sides. Place into the pan and cook until golden brown, about 2-3 minutes. Flip and cook on the second side until browned, about 2 minutes longer. Transfer to a platter. Repeat with the remaining bread slices.
Warm up the banana mixture before serving.
Place 2 pieces of toast onto each plate and top with banana mixture. Finish with a light dusting of confectioners sugar.
Recipe by: The Jewels of New York