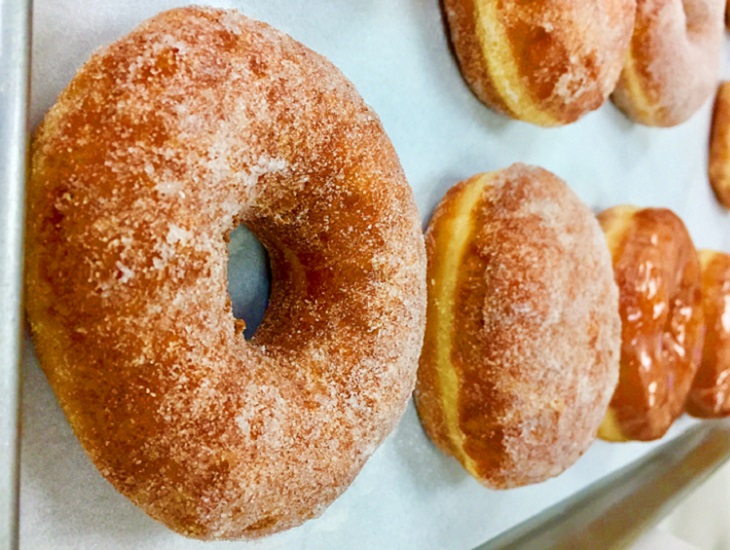 La Brea Bakery is primarily known for our high quality artisan breads. What most people wouldn't guess is that we have a dedicated Innovation Team whose primary role is to cook up new (and delicious) innovative recipes. They're a colorful crew of intense talent and experience and we wish we could introduce them to every single person that touches our foods. While they've created recipes ranging from our next-level La Brea Bakery Reserve breads to our Café's epic pizza dough – they are often tinkering on other not-so-La-Brea-Bakery recipes. Like donuts.  
Our Innovation Team approaches donuts just like they would anything else: with heaps of passion, enthusiasm and a dash of fun. While we can't introduce the team to every single one of you, we can start with our L.A. fans at the La Brea Bakery Café. This Saturday, April 1, the La Brea Bakery Innovation Team will be at our Café in Los Angeles frying up fresh and delicious homemade donuts. Flavors of these 'melt in your mouth' donuts will include vanilla bean glazed, cardamom sugar, and chocolate glazed filled with chocolate pastry crème and whipped ganache (AKA the Quadruple Chocolate).
If you're looking for something to do around Los Angeles every Saturday in April, the innovation will be having fun putting on a show and making fresh donuts at La Brea Bakery Café. Better news? They'll be there every Saturday in April, sharing their latest food project. Trust us, you'll want to taste it yourself.
Planning to enjoy our homemade donuts? Share your favorites on Facebook, Twitter or Instagram with #LaBreaBakery. If we use your picture, we'll thank you with free bread!