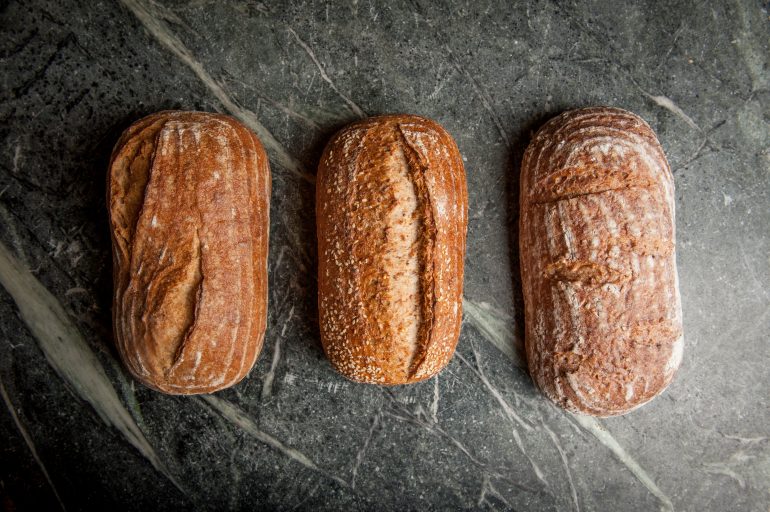 Pairing wine with food is a lifelong pursuit, with many do's and don'ts. In general though, it comes down to personal preference and a goal of complementary flavors that balance and enhance your experience. Over the years, wine experts focused on meats, cheeses and dishes, but they never thought to look at another staple of any global cuisine – bread.
So, we thought it would be fun to look at our three La Brea Bakery Reserve Breads and find some delicious pairings. We headed down to DomaineLA to see our friends and get some sound advice.
Pain de Campagne – Our Pain de Campagne has very pure and subtle flavors, complemented by a Rye Preferment and slightly nutty, sweet notes. The wine that we chose couldn't overpower that subtlety but also needed to match the acidity in the bread. We settled on the Stolpman Vineyards Sauvignon Blanc from Santa Barbara County. The wine brought nice acidity, balance and clean, crisp flavors to perfectly complement the loaf.
Fortuna Wheat Loaf – This bread is Fortuna at its finest and really shows off the terroir of Big Sky Country, Montana. It showcases Fortuna Wheat in 3 different ways: Fortuna wheat flour, Cracked Fortuna wheat berries, and Fortuna white flour. Each component brings pure Fortuna flavors with slightly different textures. We decided that Sparkling Wine was the way to go and chose Domaine de la Lauvetrie "Atmospheres" Sparkling Wine from the Loire Valley. The effervescence of the wine added another dimension to the experience and the wine perfectly capture a unique terroir, much like the bread does.
Struan – The Struan has is a complex and heartier loaf with a diverse grain mix from coming from Big Sky Country, Montana. Cracked Fortuna, spelt and emmer provide incredible texture, nuttiness and ancient grain notes. The robust flavors of the bread can stand up to stronger flavors in light reds but we found nice balance in Les Aphillanthes Côtes-Du-Rhône Rosé.
Would you go another route? Tag us with your pairing ideas with us on Twitter, Facebook, Instagram or Pinterest with #LaBreaBakery. If we share your recipe, we'll thank you with bread!