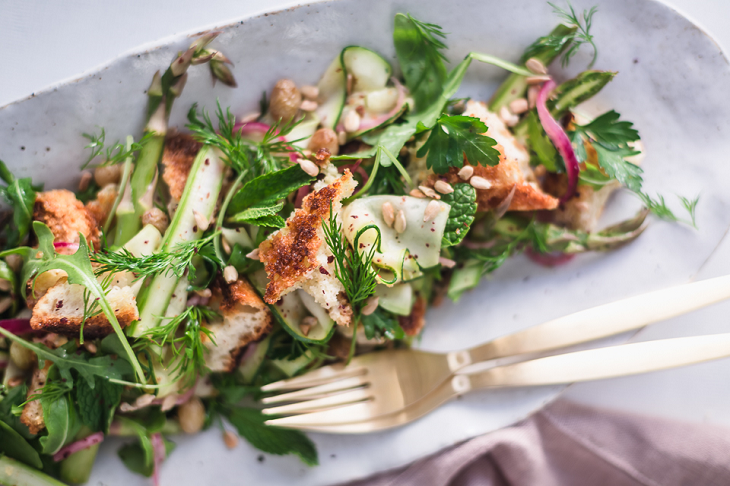 We took a cue from the minds at Kitchn for this week's dinner ideas: salad.  Crunchy greens dotted with fruit and veg make for a refreshing dinner alternative to the heavier winter menus we've likely all become used to over the past several months. Get your wheels turning with these fresh salad updates:
BBQ Tofu Salad Bowls – Kitchn calls it a salad but honestly, these robust little bowls can pass muster as filling, vegetarian Buddha bowls. BBQ tofu and black beans do the heavy lifting while fluffy brown rice and a light drizzle of yoghurt ranch dressing balance it out.
Steak Salad with Rice Noodles – This salad shared on Bon Appetit's healthyish will fill your tanks in more ways than one.  Simple to make, filling bits of steak and crunchy, flavorful vegetables mingling with the punch of fish sauce is healthy(ish) and filling.
Panzanella Salad – this bread salad first shared by Cottage Farm for our Reserve Demi Baguette launch hits all the marks: light, crunchy, bready, this take incorporates plenty of fresh herbs to add dimension and interest.
Are you a salad devotee come dinner time? Share your creations with #LaBreaBakery on Pinterest, Instagram or Facebook, if we share your post, we'll thank you with bread!