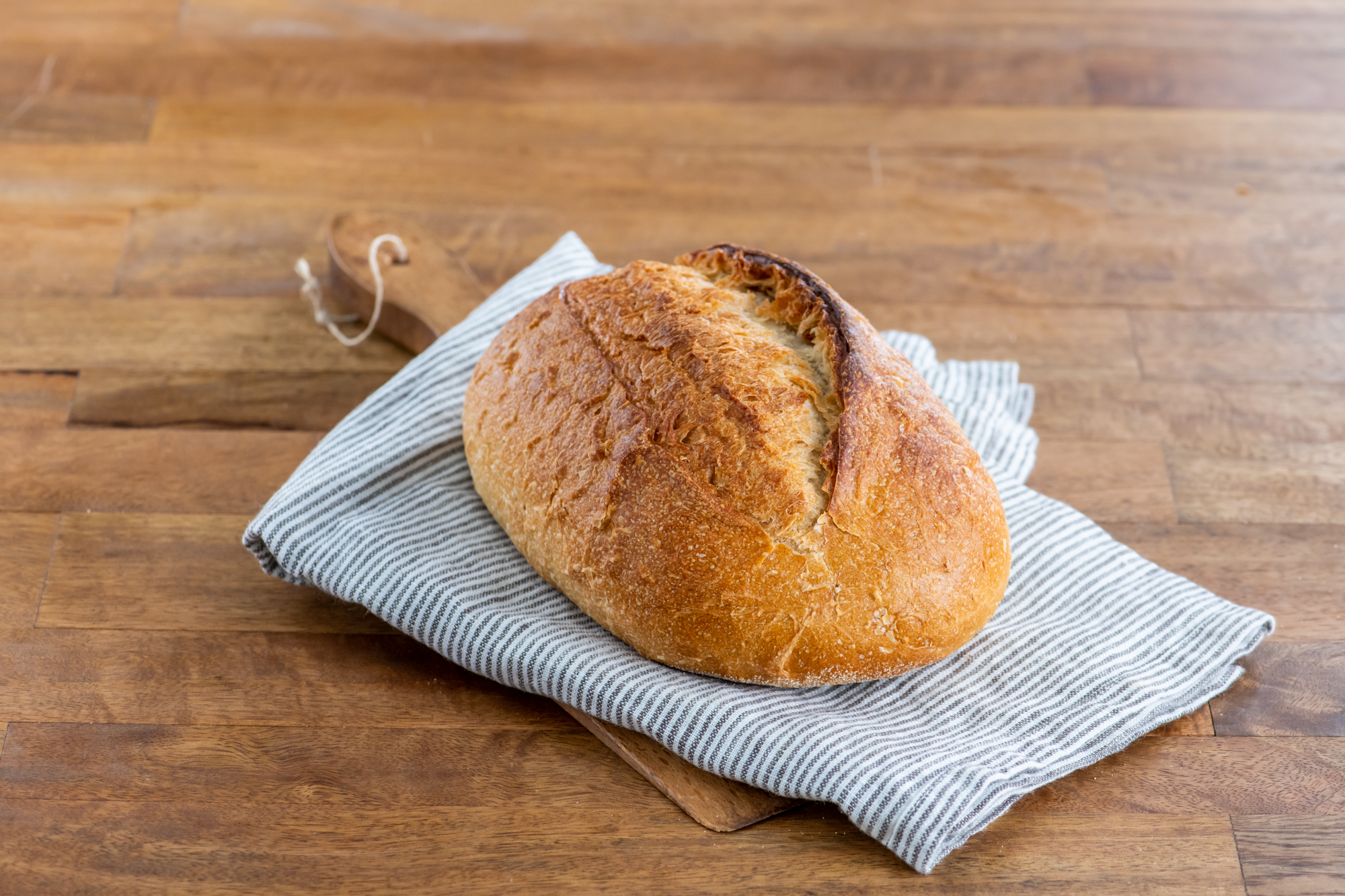 If you've ever tried our La Brea Bakery Sourdough, you know how truly magnificent it is. Under its golden brown crust awaits a mildly tart and subtle sour flavor ready for you to enjoy. But before you can break bread, we need to create it. So, how does that happen? By going back 30 years and remaining true to tradition. This time, on a much grander scale.
| | |
| --- | --- |
| | Like in making all sourdough, ours begins with a sourdough starter. Our mother starter is over 30 years old, made from organic grape skins, and is loved, fed flour and water, and left alone for her to enjoy 12 hours of fermenting quiet time. |
| | |
| --- | --- |
| | Once the fermentation process is done, the starter is combined with high-protein flour and specific ingredients that depend on the type of bread we're making. All ingredients are measured by weight and placed in our spiral mixers to form a delightful, aromatic dough that helps develop the dough's strength. |
After the dough is thoroughly mixed, we let it rest from two to four hours depending on the dough type. Resting is an important part of the process because it allows the natural yeasts to activate and start its first fermentation cycle.

Once well rested, we run the fermented dough through our stress-free scaling and shaping system. This allows the dough to be gently divided by weight and formed it into its final shape.
And, since there's nothing like loafing around, the shaped dough rests for another four to six hours to allow it to ferment a second time. This all happens in a cool, temperature-controlled, high-humidity space to allow for maximum flavor development.

After this final fermentation cycle is complete, the bread is scored to allow it to expand in the oven and provide the wonderful appearance once it's baked. We use specific signature scores based on the bread we're making.
Once scored, in the oven it goes. Ours happens to be large, thermal oil deck ovens that enable us to use high temperature and steam in the first stage of baking. This environment allows for crust development and sourdough's open interior structure and volume.

When fully baked, the loaves are then placed on a large spiral cooler before heading into our blast freezer where they'll be flash frozen to preserve freshness.
Once frozen, they are put into cases and shipped out of the bakery to their final destination — and hopefully end up being the centerpiece on your home's table.
Suddenly hungry?
Find recipes using our La Brea Bakery Country White Sourdough Loaf or our original Sourdough Loaf at LaBreaBakery.com/recipes.