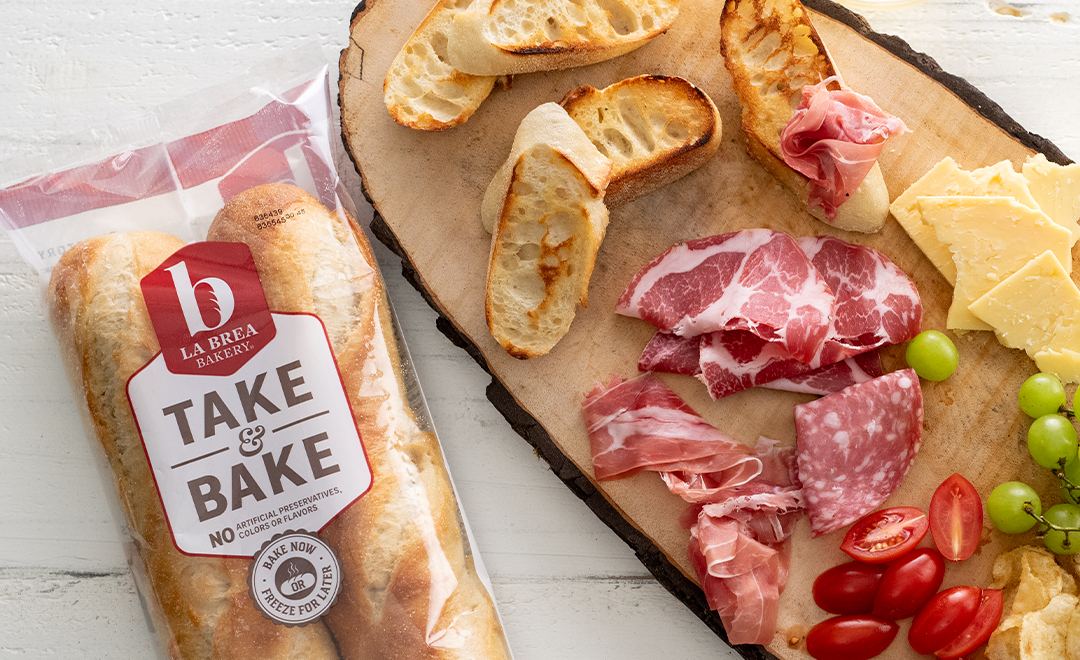 Between entertaining, keeping your family fed and your busy life, shortcuts are always appreciated – as long as they don't sacrifice the quality of the foods at your table. Thankfully, Take & Bake offerings from La Brea Bakery maintain the same high-quality ingredients that make our fresh loaves and rolls so delicious – but they can be hot and ready-to-serve whenever you need them. Fresh artisan bread whenever you choose to serve it makes Take & Bake a crave-worthy choice for your kitchen.
Minimal Preparation

No need for kneading, experimenting with sourdough starter or dirtying your countertops in order to enjoy fresh artisan bread. Each of our bake-at-home breads includes simple instructions to ensure that anyone can be a baker with hot, oven-fresh bread in minutes.
High-Quality Ingredients

Our signature starter and thoughtfully sourced ingredients are what set La Brea Bakery breads apart from the rest. Every loaf, including our Take and Bake variety, starts with locally-milled flour and wild yeasts made from the skin of organic grapes. Ingredients that inspire the fresh and delicious flavors La Brea Bakery is known for. Most of our breads are also non-GMO and vegan, so get ready to serve them up hot and fresh — at your convenience.
Ready When You Need It

All you have to worry about is turning on your oven. Leave the rest to us! Whether you're entertaining last-minute guests or serving fresh dinner rolls for a weeknight meal, our Take & Bake varieties only require some baking time. These La Brea Bakery offerings can be purchased ahead of time, stored in your freezer or available for any last-minute gatherings.
A Variety For Any Occasion

We offer so many delicious premade loaves, rolls and baguettes – and our Take & Bake collection reflects a great variety of artisan breads for you to enjoy. No matter the occasion, our selection means you can have fresh, artisan bread in minutes.
The same delicious textures and flavors, but on your time – our Take & Bake options are ready whenever you need them. To find your favorite La Brea Bakery breads near you, tap here.