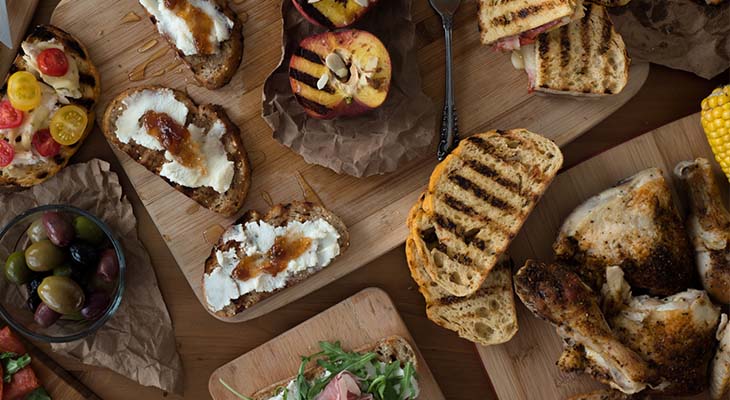 This summer, think beyond the hamburger bun. Throw some artisan bread on that barbie. With La Brea Bakery baguettes, you can take simple backyard get-togethers to tasty new heights. The easiest way? Just brush some butter or olive oil on sliced baguettes and put them face down on the grill. When they're looking like grilled perfection, take them off and rub them with some herbed butter or fresh garlic for extra flavor. Want to get fancier and impress your guests? Use La Brea Bakery baguettes as your canvas for super savory culinary creations that have that perfect crunch. Like these:
| | |
| --- | --- |
| | Italy, meet Hawaii. With our La Brea Bakery Take & Bake Ancient Grain Baguette as your base, layer on prosciutto, red peppers, pineapple rings, basil and sprinkle with Balsamic vinegar for a sweet and salty summer favorite. |
| | |
| --- | --- |
| | Do the dip. Start with La Brea Bakery Take & Bake Twin Pack Baguette. Create a spread of olive oil, artichoke hearts, mozzarella, parmesan cheese and more deliciousness. Spread, cut and share with friends. |
| | |
| --- | --- |
| | Move over, cheese and pepperoni. Slice and bake La Brea Bakery Demi French Baguette in the oven, then top with prosciutto, bacon, broccolini, lemon, caramelized onion, sweet potato and more garden-fresh veggies and heat to perfection on the grill. |
| | |
| --- | --- |
| | Put a delicious twist on the kabob. Skewer La Brea Bakery Take & Bake French Sandwich Rolls and grill to get perfect char marks. Then, sear tuna, place on bread, and add jalapeno sauce and micro-greens. Ahh-mazing! |
| | |
| --- | --- |
| | Who says vegetarians can't have fun at BBQs? This is reason to believe. Layer on refreshing pickled carrots, cucumbers and jalapenos on top of firm grilled tofu and La Brea Bakery Take and Bake French Baguettes and serve. |
| | |
| --- | --- |
| | With the grill ready to go, throw on hanger steaks until medium rare. Place on slices of La Break Bakery French Baguette. Then, add the finishing touch — a mix of dijon mustard, garlic, crushed red pepper and rosemary. |
La Brea Bakery is here to make your summer memorable. By creating one or all of the above, you'll definitely make the most of your grill. Want more ideas? Visit Easy Grill Recipes and BBQ Recipes and choose the Baguettes and Batards option from the Bread Type menu. Happy grilling!